Building stadiums or passing the buck
Sri Lanka is scheduled to host the next cricket World Cup in 2011 jointly with the three other test playing nations of the sub-continent, but the sports controlling body here, Sri Lanka Cricket is yet clueless about the state of one of the newest stadiums that needs to be completed for the event.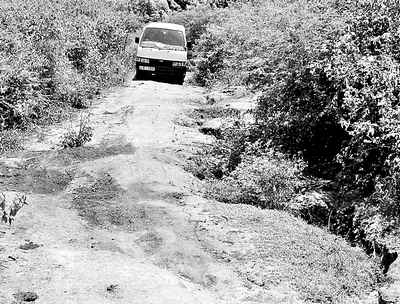 Road leading to the Mirijjawila International stadium
When we visited Hambantota early this week we found that the exact venue of the new stadium has still not been demarcated nor surveyed. The general area is in fact still virgin shrub jungle, while work connected with the new Hambantota town, including an international conference hall and an office complex has just begun in the surroundings. The original place that had been picked for the stadium at Mirijjawila in 2001 and a great deal of work done thereafter have been abandoned as that area is now coming under the proposed international harbour.
Inquiries made in this regard from Sri Lanka Cricket officials led us to being sent in circles. An official at first was certain that the site was being cleared. When we pointed out that the site has yet to be demarcated, he still insisted it was otherwise and directed us to contact Sri Lanka Cricket Engineer R. Wijeratne. He in turn told us to contact Mervyn Gunasekera of Land Development Ltd. as that firm had been entrusted the task of organizing the clearing of the land. Mr. Gunasekera however maintained that they had not signed any contract and it was in fact Sri Lanka Cricket that had called for tenders to select a suitable party to clear the land. Mr. Gunasekera suggested that we either contact Sri Lanka Cricket Chief Executive Duleep Mendis or its Finance and Administrative Manager Upali Seneviratne. As Mr. Mendis' line was on voice mail, we contacted Mr. Seneviratne, he while acknowledging the fact that his division financed projects said he was not aware of details when it came to their progress, so he wanted us to contact Jayananda Warnaweera, who in turn recommended Duleep Mendis as the best person to give details. When we finally got through to Mr. Mendis' secretary, she informed us that he was out of the country and that he would be back for two hours on May 28 and would be going abroad soon after!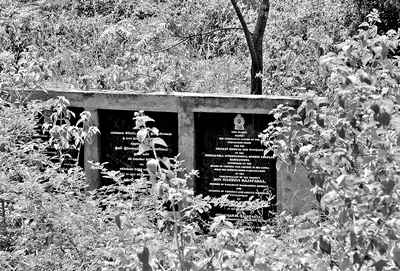 Foundation stone laid for the Mirijjawila stadium lies abandoned - Pix by Saman Kariyawasam
The fact remains that Sri Lanka has undertaken to host about nine of the world cup matches here and is obliged to submit several non raining venues during that period. At present only non raining venue ready is the Dambulla Stadium. The other two non raining venues earmarked at Pallekele and Hambantota have yet to get off the ground.
The Sunday Times reliably learns that the situation at Pallekele is no different from that of Hambantota.
With the tournament scheduled to be played between March and August, venues such as SSC, Khettarama, Galle, P.Saravanamuttu, and Asgiriya are vulnerable to rain disruption. Hambantota, Dambulla and Pallekele experience rain normally between November and January. (RA)