Batik regained
Vipula Dharmawardena's son carries on the legacy of his famous father by creating a line of furniture that combines both a dying art and wood
Pushpadeva Dharmawardena was an artist by the time he was four years old. Watched over by a proud father, the young boy designed his own batik creations. To Vipula Dharmawardena, it must have seemed as if artistry ran through the very veins of his first born, as if within the blood they shared, skill and dexterity met the vision and passion required of any artist.
Today, more than ever, it is evident that Pushpadeva is Vipula's son. In an exhibition designed to pay tribute to his father's legacy, Pushpadeva has merged batik and wood to create an exclusive and eye-catching range of furniture under the label "simplywood".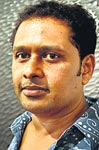 Pushpadeva
Dharmawardena
This particular combination is quite possibly unique, admits Pushpadeva, explaining that he first had the idea while working with his father on some interior design projects. Mr. Dharmawardena, himself, famous for his skill with batik, was often asked to incorporate his own work into any interior projects he undertook.
Looking back on the glory days of his father's career, Pushpadeva recalls how Vipula Dharmawardena's name and batik became almost synonymous. Mr. Dharmawardena who passed away in 2003, was a tireless and prolific artist, taking the island's batik art on tours to foreign museums, universities, conventions and conferences. By the end, he was easily among Sri Lanka's most sought after artists, having exhibited his work in nearly all the major European cities, in many parts of the United States of America, the Middle East, South East Asia and Australia. He held 33 exhibitions in Europe alone and displayed his batik pieces in over 55 countries.
In spite of the numerous demands on his time, Mr. Dharmawardena found time to guide his children's fledgling artistic impulses, reveals Pushpadeva, adding that he is only using what his father had taught him. Looking back, he remembers that it was his father who really understood his potential. "He always guided me; he would say 'you are meant to become a talented artist…not a lawyer or a doctor."
Having come from a long line of reputed artists and craftsmen, Mr. Dharmawardena was also a skilled jeweller and sculptor. Pushpadeva is similarly determined to experiment, with different mediums. Initially trained as a garment decorator/printer, Pushpadeva also studied graphic art and printing in the UK. It has taken him another three years to grasp the nitty-gritty of working with wood, though he admits ruefully that he is still not much of a carpenter. Working with different types of wood, including teak, mahogany, and surya mara, he says that he found the technical aspects of imprinting his batik designs onto such surfaces challenging.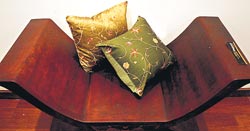 His current exhibition at Gandhara features over 50 pieces, including tables, cupboards, chairs and even lanterns. Inspired by "various ages, stages, mediums and art forms," Pushpadeva's collection appears not only eclectic and vibrant but comfortably luxurious – seeming to invite you to simply sink into a chair or recline lazily on a sofa. Fortunately for those who would care to have Pushpadeva's unique blend of ancient tradition and fluid modernity in their homes, the artist intends to turn what began as a hobby, into a full blown line of furniture.
In the end, it seems that Vipula Dharmawardena's legacy will live on in the work of his son, and that batik, once neglected, will remain an art form prized not only for its beauty and ancient roots but also for its continued significance to contemporary artists.