Crocs in Nilwala threat to farmers, residents
The Nilwala Ganga in Matara which provides water for paddy fields and those residing near its banks, has become a threat as well to the people who live close to the river bank.
The crocodile threat, which has been there for some time, has reached a critical stage as around 10 people a year are killed by crocodiles not only in the river and its tributaries, but also on land which the crocodiles have invaded.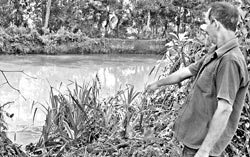 A man points to the spot in the river where Sirisena's body was found
A resident of Kadawedduwa, S. Samarasekara, who works at the Matara Zonal Education Office, told The Sunday Times there were around 5 or 6 crocodiles in the oya which is a branch of the Nilwala Ganga.
He said that during the day the crocodiles come to the river bank and at night they go on the road as well."When we get their smell, we become cautious as we know that the smell means the crocodile is crawling on the road", he said.
"There weren't any crocodiles in this area before, but after the Ahungalla zoo was closed, the crocodiles there were introduced into the Nilwala Ganga. Those crocodiles were used to eating meat unlike the ones that are born and bred in rivers," he said.
Mr. Samarasekera said around 16 people in his village have been killed by crocodiles within the past 4 to 5 years."They attack cows and dogs. They get at the dogs that are tied in gardens too," he said.
Matara AGA W.K.K Athukorala said the crocodile threat was becoming severe every year and the Divisional Secretariat was making plans to protect people from the crocodile threat.