Poor storage facilities led to contaminated syringes
Inadequate storage facilities may be the "most plausible" explanation for the contamination of syringes which led to the death of three young women who contracted meningitis after administration of spinal anaesthesia for caesarean sections between July 2-25, 2005 in two main maternity hospitals in Colombo.These were the disturbing findings by a high-level team of doctors who probed a meningitis outbreak at the De Soysa and Castle Street Hospitals for Women. According to the findings published in the New England Journal of Medicine (February 15, 2007), titled 'Aspergillus Meningitis in Sri Lanka – A Post-Tsunami Effect?', an examination of the Health Ministry's central stores of drugs and devices had revealed that the three regularly used, renovated warehouses were full of donations for survivors of the tsunami whereas the regular procurements of the ministry were stored in a dusty and humid fourth warehouse with leaks in the roof.
"Although the exact source of the contamination remains unclear, inadequate storage facilities, owing to the mass influx of donations, was identified as the most plausible explanation, given the suboptimal storage conditions during the 6-month period after the tsunami disaster," the report said.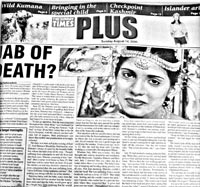 In 'Jab of death', The Sunday Times of August 14, 2005, highlighted the plight of Baby Bimsara, who was just 54 days, and whose mother, Shiromi Kumari was dead at 22.
A healthy young woman, Shiromi from Pahala Bomiriya in Kaduwela had her baby through a caesarean section at the De Soysa Maternity Hospital and just over six weeks later was dead........ The cause is widely believed to be meningitis, with the germs entering the patients bodies when they were given spinal anaesthesia for caesarean operations, our report added.
Immediate incineration of all unused syringes led to the effective control of the outbreak, with no reports of aspergillus meningitis in 2006, it reassures.
The events which led to the "intensive microbiologic investigations" by Dr. Padma S. Gunaratne, Head of the Institute of Neurology, National Hospital, Colombo; Prof. Chandrika N. Wijeyaratne, Professor of Reproductive Health, Medical Faculty, University of Colombo and Prof. Harsha R. Seneviratne, Professor of Obestetrics and Gynaecology, Medical Faculty, University of Colombo are indeed tragic. (See box for Sunday Times story published on August 14, 2005)
Five previously healthy women in the age range 21 to 38, with the average age being 27 years had received spinal anesthesia from different surgical teams in the two maternity hospitals. They developed symptoms of meningitis and three died.
According to the report tests (fungal cultures) on the cerebrospinal fluids or postmortem brain specimens from four patients had been positive for Aspergillus fumigatus
The investigations which commenced when the possibility of an outbreak was recognized had initially included examination of randomly selected, unopened packages of medical supplies: 679 disposable plastic syringes, 159 intravenous and spinal needles, 87 cannulae, and 55 ampules of anesthetic agents. Fungal cultures had confirmed that 43 syringes from three different manufacturers were contaminated with A. fumigatus.