Castro blasts Bush as 'apocalyptic'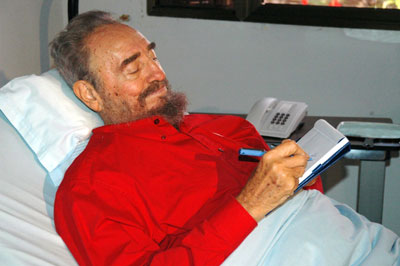 Cuba's President Fidel Castro writes while lying in bed in Havana in this August 13, 2006 file photo. Castro, in his first statement on his health crisis in almost 10 months, said on May 23, 2007 he was eating enough to recover from several intestinal operations and months on an I/V. Reuters.
HAVANA, Saturday (AP) - Fidel Castro called George W. Bush ''an apocalyptic person'' yesterday, hours after the U.S. president signed a bill that will pay for military operations in Iraq without setting a timetable for troop withdrawal.
In the 12th signed statement released by the Cuban leader in recent weeks, Castro accused Bush of ''faking rationality'' and manipulating U.S. public opinion. ''Just yesterday, Bush bragged about having won the battle over his adversaries in Congress,'' Castro wrote in the wandering four-page statement. ''He has US$100 billion, all the money he needs to duplicate, however he wishes, the sending of American troops to Iraq and continue the slaughter.''
The US$ 120 billion bill approved Thursday by the U.S. House 280-142 funds the war through September and sets no date for a troop pullout to begin. The Senate approved it 80-14, and Bush signed it Friday. ''Meanwhile, the region's problems get worse,'' Castro wrote, referring to the Middle East.
''Bush is an apocalyptic person. Look at his eyes, his face and his obsessive preoccupation with pretending that all he sees on the 'invisible screens' is spontaneous,'' Castro wrote in an apparent reference to the use of teleprompters. The 80-year-old Castro is recovering from a series of emergency intestinal surgeries and has not been seen in public for nearly 10 months.
His previous statements have been published the following day on the front pages of Cuba's two main state-run newspapers and read over and over again on government radio and television stations. Most of Castro's recent editorials have blasted U.S.-backed plans to use food crops for biofuels, though Cuba's ''maximum leader'' on Wednesday revealed key details about his health and recovery. He wrote that he underwent not one but several surgeries, the first of which did not go well and has slowed his recuperation.
Castro stunned Cuba and the world in late July, when he announced he was seriously ill and was temporarily stepping aside in favor of a provisional government headed by his brother Raul, the 75-year-old defense minister. Though his condition and exact ailment are state secrets, top Cuban officials have insisted for months that Castro is on the mend.