Rajapaksa Govt. on razor's edge
JVP goes into full-scale opposition with Weerawansa also coming out with all guns blazing
CWC UPF and SLMC also sound warning of revolt
Debate on telecom deal, questions as to who gets a US$ 10m brokerage commission
Trouble shooting seems never to end for President Mahinda Rajapaksa who is dogged by a plethora of issues after just 18 months in office.
The Government's moves to acquire MiG-29 multi-role combat aircraft from Russia at a substantial cost (to be paid later) and the controversy over the proposed sale of Sri Lanka Telecom shares held by Japan's NTT to a Malaysian company - both exclusive disclosures by The Sunday Times were clearly uppermost.
He returned on Tuesday night with a large retinue after visiting Jordan to attend the World Economic Forum and ending an official visit to Kuwait. For over 24 hours, the defence and security establishments were without an official head. His brother, Defence Secretary Gotabhaya Rajapaksa left for Turkey on Monday night. Presidential Secretary Lalith Weeratunga, who acts in his absence, was away with the President. As the political head, however, there was Prime Minister Ratnasiri Wickreman-ayake.
The very next morning (Wednesday), President Rajapaksa chaired a meeting of the National Security Council. There, he reviewed the prevailing security situation. Later that evening, at the weekly Cabinet meeting, he told Ministers of the Government's move to acquire MiG-29 multi-role combat aircraft. He said the next day (Thursday) the Government had heeded a request by the JVP to debate the MiG-29 procurement. He warned the Ministers not to provide too many details during the debate but to counter the issues raised. He noted that most Ministers were in the habit of either arriving late or not attending Parliament sessions. He said it was essential they were present in large numbers to counter the opposition.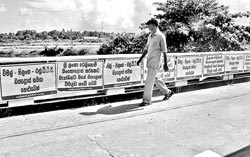 A man walks past wall pasted with posters questioning the telecom deal and Weerawansa's motives
Even Sri Lanka's Ambassador to Russia, Udayanga Weeratunga, who brokered the controversial MiG-27 purchase with Ukraine, was in Colombo this week. Besides consultations with local officials on matters relating to MiG-29s, he also talked about a future visit to Ukraine by a team from the Sri Lanka Air Force. The Sri Lankan envoy in Russia is busier than his predecessors in matters relating to military procurements. That seems his priority as a diplomat in Moscow. Weeks after his appointment, the close relative of President Rajapaksa had in fact, asked security authorities to provide him particulars of all military purchases from Ukraine including End User Certificates or EUC. Such certificates are issued as authentication by Governments to their counterparts selling military hardware. The Sunday Times learns that an official committee is now formulating an evaluation report on the MiG-29 - a prelude to the conclusion of yet another multi-billion rupee deal.
On the subject of the sale of SLT shares, President Rajapaksa, invited Dr. P.B. Jayasundera, Secretary to the Ministry of Finance, to provide the Cabinet of Ministers with a detailed account on the sale of a portion of SLT shares that was causing a stir even on the streets. (Our front page and the Business section carry the details of this sale and the controversy). Jayasundera, traced the origins of the transactions and went on to say there was no hanky-panky involved. President Rajapaksa was to add that the current campaign over improprieties on the deal was being masterminded by a powerful Colombo-based corporate body with several companies under its umbrella including the electronic media. If indeed that was true, it would make strange bedfellows. But it seemed highly unlikely if not impossible. The whistleblower was none other than Janatha Vimukthi Peramuna's (JVP) parliamentary group leader, Wimal Weerawansa - a politician who was often the victim of an intense campaign by the same electronic media. There is no love lost between him and that conglomerate. What corporate dealing the conglomerate is engaged in is one matter, but collusion with Weerawansa is unthinkable.
In Parliament on Tuesday, Weerawansa dropped a bombshell. He warned that the Malaysian company intended to purchase the shares of Japan's NTT, and thus automatically inherit the office of the Chief Executive Officer of Sri Lanka Telecom. He alleged that someone in the Government has been offered US$ 10 million (over Rs 1.1 billion) to facilitate the deal. Leader of the House, Minister Nimal Siripala de Silva, challenged him. The Speaker, W.J.M. Lokubandara asked whether he took the responsibility for making the accusation. "I take the full responsibility for whatever I say in this House," replied Weerawansa. The revelations that persons within the Government were using their power and influence to become rich overnight soon became the talking point in Colombo's diplomatic and business community among others. Many were irritated that only the smaller culprits who took a bribe of a few hundred rupees were being rounded up. The big sharks wielding power and influence were freely plundering the national wealth.
Weerawansa had prefaced his speech by noting that large posters had come up in Colombo City against the attempt to sell NTT's shares at SLT. Hardly had his remarks echoed through the length and breadth of Sri Lanka, than a different set of posters sprang up in many parts of the City. Plastered all over the walls and hoardings were posters accusing Weerawansa of colluding with a private mobile phone operator to oppose the SLT deal. Against the backdrop of mounting allegations of bribery and corruption, whistleblowers on corruption appear to be attracting bigger posters with bold letters than those committing the misdeeds. Yet another new culture indeed is born. Just the same as the one where those expressing dissenting views are painted black, threatened or even intimidated into submission out of fear.
It came just a day after Weerawansa had written to President Rajapaksa complaining of what he called "irresponsible statements" the President had made. The JVP parliamentary leader alluded to The Sunday Times political commentary on May 20 where references were made to a speech by Rajapaksa to the senior management of Lake House recently. He had said that JVP parliamentarian Anura Kumara Dissanayake together with ousted Ministers Mangala Samaraweera, Sripathi Sooriyaratchchi and UNP leader Ranil Wickremesinghe had planned to form an Alliance. He declared that it was Weerawansa who was able to scuttle such a move.
In a letter sent on Thursday to Rajapaksa, Weerawansa said "I refer to your discussion with senior Lake House officials where you have said that I have been responsible for breaking up an alliance involving Ranil Wickremesinghe, Mangala Samaraweera and Anura Kumara Disssanayake.
"Though several newspapers close to the UNP have referred to this meeting, that due to the fact that The Sunday Times Political Editor has also published this account, we take the matter very seriously. If you have actually made this reference - then, it is a serious matter. You have tried to show that:
(1) Anura Kumara Dissanayake tried to form an alliance with the UNP and Mangala Samaraweera.
(2) That I tried to break up this alliance.
"You have shown that there is an internal dispute within the JVP. You have also been making such references in previous television appearances. Firstly, no JVP MP is promoting any alliance - not even dreamt of promoting such an alliance.
"I have no desire of breaking up such a non-existent alliance. We have to consider this as a very irresponsible statement coming from you. We urge you not to make such irresponsible statements - especially as an executive President - and these statements require a clarification from you. We are writing this because the time for clarifying this matter either by you or your media outfit has now long passed and no clarification has so far been made."
Clearly, Weerawansa was trying to distance himself from a growing perception that Rajapaksa was making use of him to neutralize the JVP. With him coming out with all guns blazing this week, he seems to have earned the wrath of the Government, and he will surely be a marked man now.
If the JVP, one time strong ally of the Rajapaksa administration, had distanced itself, Weerawansa had still remained in its good books. His Patriotic National Movement (PNM) - as much as the JVP - staunchly supports the Government's "war on terror." Yet, Weerawansa, the good old friend, like many others, had been forced to turn foe. And the JVP, in a distinct shift in policy this week announced in Parliament that they will support an "honest war on terror". They have introduced that one crucial word - "honest" - to what was so far an un-conditional offer of support to fighting the LTTE.
Rajapaksa seems to be wanting to hit back at the JVP. The whereabouts of JVP's Nandana Goonetilleke, MP for Kalutara district had caused widespread speculations. Unconfirmed reports said he had travelled to Canada and may not return. JVP sources declined comment saying they do not know. Others say he had travelled with a companion and may not return. If that happens, there will be one more MP for the Rajapaksa Government. It is the SLFP that has to nominate a successor.
It is not only Weerawansa who is now on the firing line of the Rajapaksa Administration. This week, other constituent partners of the Government also earned Rajapakasa's ire. Among them were the leader of the Ceylon Workers' Congress (CWC), Arumugam Thondaman, Up-Country Peoples Front (UPF) leader P. Chandrasekeran and leader of the Sri Lanka Muslim Congress, Rauff Hakeem. They had joined UNP and Opposition leader Ranil Wickremesinghe at a news conference on Thursday in the Parliament Complex to publicly oppose the proposed electoral reforms.
Ahead of the news conference, Rajapaksa telephoned Thondaman. There was a hot exchange of words after he protested against Thondaman's plans. Later, Chief Government Whip Jeyaraj Fernandopulle also spoke with Thondaman. He said if the CWC wanted to, it could have its own news conference instead of joining Wickremesinghe. But Thondaman was determined to go ahead, and he did.
Wickremesinghe declared that the electoral reforms should receive the approval of Parliament and then go before the people in a referendum. It is only then that it could become law. SLMC leader Hakeem declared "the Government is trying to submit the interim report on electoral reforms in the guise of having a parliamentary majority. The fact that the Government's own constituent partners have publicly disapproved the Government's reforms, a passage of the law in Parliament will only see a further division of the Rajapaksa Government in Parliament. The open dissent by Thondaman, Chandrasekeran and Hakeem is a major blow to the Rajapaksa Administration - in that they know that their support remains on a razor's edge, and at best is as good as the perks and privileges those leaders get being Cabinet Ministers. The fact that they not only voiced their dissent but sat with the Opposition Leader in doing so, is a statement by itself. This virtual revolt comes at a time when the Government has to grapple with a deteriorating economy, accusations of human rights violations, reported abductions and kidnappings in addition to a breakdown in law and order.
On Friday, Thondaman wrote to the President and said that he was going abroad. The Thondamans are quite famous for doing this, usually going "back home" to India to avoid things when a political crisis gets too hot "back home" in Sri Lanka. Yesterday, a rather glum Rajapaksa swore in CWC's Satchichanandan, the former Deputy Chairman of Committees in parliament, though CWC's Muthu-Sivalingam was the more senior, as acting Minister for Thondaman.
Even the JVP is opposed to the proposed electoral reforms. It wants changes in the presidential system together with the reforms. The JVP refused to participate in the joint news conference on these grounds. The invitation to the JVP to take part had been extended by UNP frontliner Joseph Michael Perera to Wimal Weerawansa.
In terms of the proposed reforms, Government sources say, 140 MPs will be elected to a 225 member Parliament on a first-past-the-post basis i.e. the candidate who comes first in a small constituency like in the past. Seventy (70) are to be elected as District MPs under a proportional representation system encompassing the district. There will be a national proportional representation system where three seats will be allocated for unrepresented minority parties. For the purpose of electing MPs, the country is to be divided into 140 single member constituencies.
With tougher days ahead for a deteriorating economy, President Mahinda Rajapaksa faces even tougher times. He has been losing old friends to win new ones. Then, he is losing the new friends as one controversy after another engulfs him. The man who was widely acclaimed for his public relations (PR) acumen faces tough challenges. Either he has to change his ways or an entire nation will have to change their ways to suit him. That is why Sri Lanka is at the most dangerous cross roads.
The UNP is smelling blood and waiting in the wings plotting its next move. It sees a government getting into more and more difficulty. In Parliament this week, it only managed to play second best to the JVP in the debate on the MiG deal. UNP big guns are yet to fire, and it was left to emerging leader Lakshman Kiriella and novice Sagala Ratnayake to do the honours on behalf of the party.
Wickremesinghe had distributed copies of The Sunday Times to his MPs and asked them to acquaint themselves with the facts, but to many of his MPs, these MiGs are some pie-in-the-sky. On June 8, the SLT issue comes up for debate - a debate requested by the UNP (the JVP asked for the MiG debate), and how its MPs fare is left to be seen.
In the meantime, the UNP prepares itself for a mass meeting at Kalutara to carry forward its message of the government's un-holy trinity - Beeshanaya (Violence) Dooshanaya (Corruption) Rajapaksa portionaya (Commissions).
A set of junior Ministers had met Rajapaksa on his return this week from Jordan and Kuwait to discuss the UNP's strategy to target the Rajapaksa government and the Rajapaksa brothers. Some of them had suggested targeting Ranil Wickremesinghe in return.
Rajapaksa said he wanted to follow the Chandrika Kumaratunga Doctrine towards Wickremesinghe. To resist him, politically, not to disable him. That was not a compliment to Wickremesinghe.