"Thank you Mali you made it count"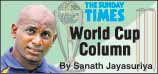 There were many uncertainties awaiting us in Providence, Guyana: the stadium was only half ready hours before the match, the weather threatened to intervene and the nature of the wicket was mere speculation. Yet, nothing prepared us for the breathtaking finish that overshadowed our Super Eights game against South Africa on Wednesday.
Following our hard fought but convincing victory against India, the boys were high in morale and keen to prove that the triumph over our giant neighbours was no chance happening. South Africa was ranked the number one side in the world and if we could register a win against them, that would boost our confidence sky high-not to mention the fact that our passage to the semi-finals would be that much easier. For this game, we had the luxury of our full complement of players being available for selection, Maha (Maharoof) having sorted out his ankle injury which kept him out of the game against India.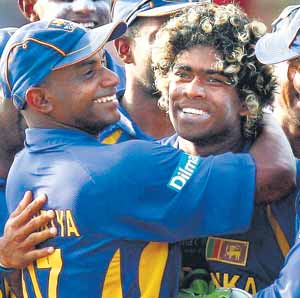 The selectors decided to include him instead of Dilhara Fernando who played against India -- and bowled very well -- as the only change from the previous game. That meant that Marvan would be sitting out this game as well but being a former captain he fully appreciates what it means to continue with a combination that has the correct balance and has yielded results; he is a team man and is not unhappy at all and in fact is a tower of strength to all of us.
Correct Call
Mahela called correctly at the toss. There had been a lot of conjecture about how the wicket would play. Prior to the game, there was quite a bit of rain in Guyana and as a result, some dampness and a bit of moisture.
Therefore, we were of the opinion that it would play low and slow as the day progressed making batting difficult, and it was in fact quite a straightforward decision to bat first. I know this has been criticised but it is sufficient to say that Graeme Smith said he too would have batted had he won the toss.
Finally, we decided to bat and when Tharanga and I walked out into the middle, we found that it was the type of wicket which needed getting adjusted to. Unfortunately, Tharanga who was in good nick was dismissed quite early and the batsman found it difficult to settle in for a long innings.
We all now agree that the top order didn't really get going in this game and it is a factor that we have seriously reflected upon. Upul and Mahela made twelve each, I scored twenty-six and Sanga was batting well on 28 when he was dismissed. Tragically, Chamara Silva who was probably the most in-form batsman from amongst us was run out by a diving Herschelle Gibbs. But even at 98 for five in the twenty fifth over, the mood in the dressing room was not very dismal because we were confident we would fight this one out. It was then that Dilshan and Arnold staged an admirable recovery, working the singles and cutting the risks to a minimum. Dilshan always thrives on difficult situations and so does Russell. In previous games, someone from the top order had done well and the last recognised batsmen in the middle order were not needed for a long innings.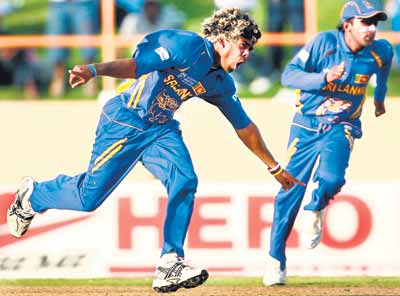 Malinga celebrates after his 4th wicket in 4 balls
Therefore, the decision to play a specialised batsman at No. 7 paid off well. In that sense, we were happy that when the occasion demands, the boys were up to the task. In the end, Dilshan and Russell had put on 97 runs, batting for more than 21 overs at nearly five runs an over-and that was the bulk of our score.
But once Russell was dismissed in the 48th over with the score at 208, there was another collapse-from 208 for six we slipped to 209 all out. A run-a-ball in the final overs would have seen us get to 220 but unlike in the game against India, the big hits didn't come off.
It is anyway difficult to bat during the last few overs of the innings but we know that being all out inside fifty overs is not the best way to play. And, in terms of what finally happened, a few more runs to the score would have come in handy. We have discussed this and we hope such mistakes will not be repeated.
At the lunch break we discussed many strategies. What we thought was a good score on this wicket was 230 to 240. We were well short of that and we knew that defending a total of 209 against a South African team that batted right down to No.7 will not be easy but we were determined to give it a go.
Stunning Delivery
When South Africa began their innings Vaasey got rid of de Villiers with a stunning delivery. The score was 1 for 1 and just when we were hoping that we could do to the Africans what they did to us by getting wickets at regular intervals, but, Smith, Kallis and Gibbs played sensibly to take the score to 160 for two. It was then that Murali snared Gibbs and then with the very next ball, Boucher was out and we sensed that victory may still be a possibility. But even though Kemp fell with the score at 182, at 206 for five, with Pollock and Kallis at the crease and with five runs to get and five overs remaining to get them in, to be honest I certainly didn't dream of winning-or even a close contest. I don't know if Mahela did but he threw the ball to Mali (Lasith Malinga) and the rest is now history.
We all know Mali is no ordinary cricketer-from his hairdo to his bowling action but Wednesday's performance stunned us just as it did the South Africans. It was not our game-we made more mistakes than the South Africans. But then Mali unleashed his yorkers and with two wickets from two balls cast a question mark over the ultimate result. When that became four wickets from four, we were astounded-as I am sure the South Africans were. I have seen Vaasey take three wickets in the first three balls of a match against Bangladesh at the 2003 World Cup but I have never been in such a situation in my life, having played nearly 400 one-day internationals. We were all very tense and on edge knowing that because of Mali, we might just have a chance. It was an electrifying fifteen minutes of pressure and uncertainty. We were all cheering each other on, knowing that the impossible had suddenly become possible.
Nerves of Steel
Then Vaasey came on and with nerves of steel, bowled a maiden over. The tension mounted even more. In the end though, it was too good to be true and an edge to the boundary settled the match, but we were all so exhausted from those final nerve-wracking minutes. What Mali's performance did was to give us a new dimension in the tournament. Mahela spoke for all of us when he said, we never had a chance. And then Mali did what he did and created a window of opportunity that we nearly made maximum use of.
In terms of confidence, it is the type of performance that you yearn for a loss, yes, but morale is still very high and going through those last few overs with the expectation that we may still pull it off gives you that extra edge that is needed to survive in this type of tough tournament. It also teaches us the important lesson of never giving up until the final ball is bowled-and the younger boys in the team would have learnt that well on Wednesday.
Now it is on to another big game-against the West Indies today. It is a big game for us because we will be keen to put Wednesday behind us, correct our mistakes and gather our points to ensure that we make it to the semi-finals. But it is an even bigger game for the West Indies. They have lost their last two games against Australia and New Zealand and have only the points against Ireland. They must be under a lot of pressure to perform well and win because they are also the hosts. So, it is another crunch game for both teams though for different reasons.
Since Wednesday, the boys have been attending practices with Tom (Moody) and going through their paces. Those families of some of the team members who had toured the Caribbean for the early stages of the tournament left when the team departed Trinidad. The boys are quite relaxed and are making good use of the pool at the Le Meridien in Georgetown because there is no beach here. Our focus is now on the game today. What Wednesday did to us was to leave our confidence very high despite our loss. It is so different from losing in a one-sided contest. And for that we are grateful to one young man- a man named Separamadu Lasith Malinga.