Another pathetic show by the Lankans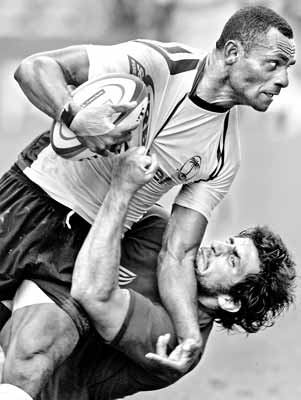 Fiji's Setefano Cakau, white shirt, is tackled by an unidentified Sri Lanka player during the second day of the Hong Kong Sevens Rugby tournament Saturday March 31, 2007. (AP Photo/Kin Cheung)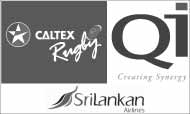 Once again Sri Lanka sevens rugby's losing pattern continued at the Hong Kong sevens after they lost their last two group matches to Scotland (53-21) and Portugal ( 47-7) in the first round matches worked off here in Hong Kong stadium.With these two defeats Sri Lanka lost all three matches in their group. Earlier Sri Lanka lost to Fiji and were demoted to the Bowl segment. Now they will play their bowl quarter finals against Kenya today.
Sri Lanka lost all matches mainly due to lack of fitness and found it difficult to last the 15 minute game. In today's opening game Sri Lanka were outclassed by the strong Scotland outfit by 53 points to 21
Then in the game against Portugal was once again a one-sided affair. After a tight first half Portugal cut loose in the second to register a 47-7 victory.
Results-
Scotland beat Sri Lanka (53-21), Wales beat Chinese Taipei (61-0), China beat Canada (21-19), Kenya beat Italy, Argentina beat Hong Kong (19-12), Australia beat USA (15-14), Fiji beat Portugal (28-7), South Africa beat Tonga (31-12), Samoa beat Japan (54-7), New Zealand beat Russia (54-0), England beat Korea (38-14), Tunisia beat France (31-12), Portugal beat Sri Lanka (47-7), Tonga beat Chinese Taipei (49-17), Japan beat China (40-12), Russia beat Italy (17-12), Hong Kong beat Korea (19-12), USA beat Tunisia (14-5), Fiji beat Scotland (26-0), Samoa beat Canada (41-0), New Zealand beat Kenya (50-14), England beat Argentina (19-14) and Australia beat France (28-14)