Malinga's effort will long stand the test of memory
In the 1882 Test at the Oval, after two days of riveting cricket, England were left to score only 84 runs to beat Australia. It had been a low scoring match till then, but England's strong batting, led by the mercurial WG Grace, held all the aces. Frederick Spofforth, the Australian fast bowler, apparently gave his rallying cry when England were 51 for 2 with Grace at the wicket. "This thing can be done,'' Spofforth is believed to have told his teammates, which raised their spirits and performance. England's remaining eight wickets fell for 26 runs more, Australia won by seven runs, Spofforth finishing with 7 for 44 and getting forever the sobriquet of Demon.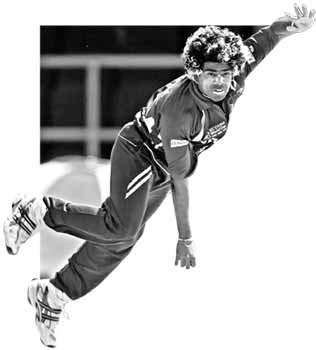 There was a public outcry in England over this defeat, and the Sporting Times carried an obituary for English cricket, saying "the body will be cremated and the ashes taken to Australia." Cricket's most renowned contest had acquired an identity and a title. If conflict is the essence of sport, battles against all odds make for the most compelling stories. Remember VVS Laxman's epic 281 against Australia at Kolkata in 2000-01, after India had been forced to follow on? Brian Lara may hold the record for the most runs in a Test innings, but I venture that Laxman's was the more dynamic, valuable and (for the game) enriching innings.
Sri Lanka's stirring fightback against South Africa on Wednesday, inspired by Lasith Malinga's swinging yorkers and hostile pace which had the batsmen flummoxed and afraid — will long stand the test of memory. It was a terrific (batsmen facing him might call it terrifying) spell by one of the more unusual bowlers in the history of the game.
Like Jeff Thomson, Malinga too has a sling-shot action, but unlike Thomson, Malinga delivers the ball from shoulder height, making it difficult for the batsmen to follow the flight. He also bowls at around 150 kmph, and can get the ball to rear up from just short of a length, which makes him that much more unpredictable and dangerous.
Malinga's four wickets in four balls brought his side to the brink of an improbable victory. Had his batsmen scored five — even two — runs more, there might have been a different result. South Africa eked out a narrow, tense victory, but Sri Lanka won all the hearts.
It's not just because they have a fine all-round team, and a bowler who has the potential to be a big influence on the game, more because they have shown a never-say-die-spirit.
Who says there can be no glory in defeat?