Four in-a-row for Nalanda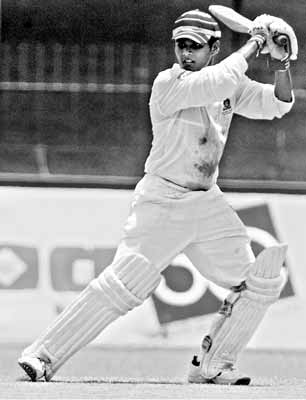 Nalanda batsman Dilshan Munaweera who made 36 runs to hold their tail together hits one on the off side. ( Picture by Ranjith Perera)
Nalanda made it four in-a-row in the 'Battle of the Maroons' (limited overs game) against Ananda at the SSC Grounds yesterday. Nalanda outplayed and outclassed their arch rivals by 66 runs with 10 overs to spare.
All-rounder Ashan Priyanjana batting in his own inimitable style laced a stroke-filled 52 in 48 balls (with three fours and a six). The lower middle order flopped after being 115 for 3, losing four wickets for 33.
A belligerent 36 in 26 balls (with three fours and two sixes) by stocky Dilshan Munaweera, supported by a hard-hit 29 n.o from lanky Lahiru Aponsu, Nalanda recovered to reach 210.
Ananda in reply, after being 65 for 3, were helped by P. Seneviratne (24). Their middle-order fell on the wayside barring a last ditch 36-run eighth wicket stand between skipper Malith Gunatilleke (43 in 56 balls with five fours) and S. Wijesuriya (18 n.o), were bowled out for 144.