Playground or politics on vacant land
Many schools in Kandy have no proper grounds for sports activities but vacant lands which could be utilized for sports activities are either sold to private enterprises or leased.
Nearly 50,000 school children of 12 schools have no proper grounds for sports activities, the only one available being Bogambara Stadium. The Police grounds are available but girls are unable to use these grounds since most girls' schools are quite a distance away. The only available ground was a vacant land on William Gopallawa Mawatha opposite the Lumbini Royal College. This was originally a paddy field dating back to the time of the Sinhala Kings and subsequently it had three or four owners. This plot of land was acquired by the UDA for a 'public purpose' to build a waste disposal system for Kandy. The project was abandoned after protests that it was in a residential area.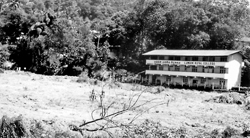 The vacant land opposite Lumbini Royal College
President Ranasinghe Premadasa had instructed the UDA that the land should be reverted to growing paddy He told the officials who accompanied him to the spot that this was the only 'lung' for Kandy and no buildings should come up on this land.
However, it was leased to a joint venture with a Singaporean company to build a hospital. It was alleged that the Singaporean company had declared capital of only 50 Singaporean dollars. The project was abandoned and in the meantime the original owners filed legal action against the UDA and other authorities.
Now there is a sudden spurt of activity and school authorities are perturbed that instead of a stadium for schools being constructed, some other not quite transparent activity is taking place.
The schools around this land include Mahanama College, Lumbini Royal College, Dangolla Vidyalaya, Seetha Devi Vidyalaya, Swarnamali Balika Vidyalaya, Kandy Girls' High School, Vihare Maha Devi Vidyalaya, Siddi Lebbe Muslim Girls' School, Pusphadana Balika Vidyalaya, Rasinhe Maha Vidyalaya, Keppetipola Vidyalaya.
When Kandy Times spoke to principals of schools, they said schools were handicapped without a playground or stadium, but feared that politics had crept into this issue.
They said a stadium should be constructed on this land either by the Kandy Municipal Council or the Central Provincial Council.
Education officials claim they have on numerous occasions complained of the lack of a proper playground for schools in Kandy.