This article is part of a continuing series on the 'Mahavamsa,' the recorded chronicle of Sri Lankan history
King Kulottunge
1. King Vijayabahu I, respected and patronized the learned men. A few scholars from India came to see him. He entertained them quite respectfully and provided them with board and lodging. He restarted the practice of 'Dhandiswara dana.' He undertook a lot of religious activities. In order to make offerings to the Sri Maha Bodhi in India, he sent gems and jewels from Sri Lanka. During his rule, there were a lot of connections between India and Sri Lanka.
2. The envoys who exchanged messages between the two countries, were well looked after. The king tried to forget the enmity he had towards the Cholas and exchanged envoys. By this time, it was Kulottunge who was ruling the Chola kingdom. Though he became friendly with King Vijayabahu, deep down in his heart he entertained a certain anger. The cause was that King Vijayabahu fought against the Cholas and deprived the Chola emperor of his supremacy over Sri Lanka.
3. As a result of King Vijayabahu's wars, the Cholas not only lost Sri Lanka, but also a number of provinces in South India as well. Some of them had gained independence and others were fighting for the same. The Chola king still had a chance of disrupting the peace of this country, as there were a lot of Cholas living here.
4. There were many Chola soldiers serving in the mercenary army of King Vijayabahu. With their help, the Chola king could create trouble here. But King Kulottunge, did not want to do so, as King Vijayabahu was friendly with a number of kings of South India. It was particularly because of his friendship with King Sri Vijaya, who was a powerful ruler in the south. Furthermore, King Vijayabahu had become Sri Vijaya's son-in-law, after the recent marriage and this mattered a lot. These factors discouraged the Chola ruler of any struggle against Sri Lanka.
5. For 15 years, King Kulottunge maintained peace with Sri Lanka. But in 1085 AD, he tried to rouse King Vijayabahu against him. This was done by causing suffering to some Sinhala envoys, who went to South India, along with Karnata and Chola envoys. These Karnata and Chola envoys, accepted all the gifts given to them and returned to Polonnaruwa. The king treated them in the normal way. They stayed here for some time.
6. When the Karnata envoys were leaving, the Sinhala envoys too joined them. They were going across the Chola kingdom. The Cholas were keeping watch. They allowed the Karnata envoys to pass and got hold of the Sinhala envoys. Their limbs were cut off. They were tortured by even cutting off their ears. After putting them to such agony, they were sent back to Sri Lanka.
7. It was a very painful journey for them. When they finally reached Polonnaruwa, they described all the humiliations they underwent, to the king. King Vijayabahu was terribly angry. At this time, there were still some envoys who came from the Chola country, living in Polonnaruwa. The king summoned them for a meeting and told them. "Your king is a real coward. How disgusting it is to treat these innocent envoys in this inhuman manner." He told them that he could give the same treatment to them. However, King Vijayabahu added that he was not prepared to stoop that low. He was trembling with fury and his eyes had turned red in anger.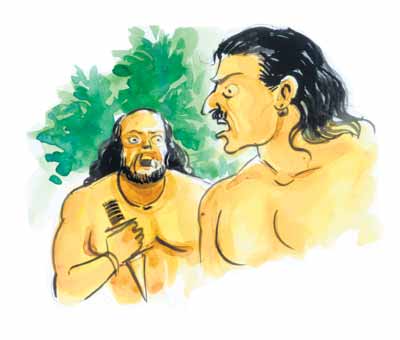 8. The Chola envoys were mortally scared and remained silent. They fell at the feet of the king, worshipped him and said they were quite innocent. The king raised his voice again and said. "If your king thinks he is so powerful, ask him to come and fight me. I am prepared to fight him even in the middle of the ocean of whatever island he chooses for a fight. Only then, will you be able to judge, who the more
powerful one is."