Amana completes 10 years in business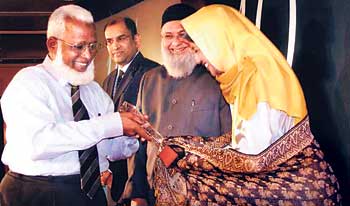 Picture shows a customer receiving a token of appreciation from the Malaysian High Commissioner watched by Amana's Chairman Osman Kassim, and MD Faizal Salieh.
Amana Investments Ltd recently celebrated the completion of 10 years in business last week with the highlight being the recognition of Amana's first 10 customers since the inception of the business and 11 long standing staff members who were all given tokens of appreciation at the event.
The company also recognized Bank Islam of Malaysia, its strategic alliance partner, and the former Managing Director of Bank Islam, Dato Ahmad Tajuddin Abdul Rahman, who was instrumental in forging the strategic alliance between the two institutions. The respected religious scholars serving on the company's Sharia Suprevisory Council, the body that is responsible to the shareholders and customers on all matters relating to compliance with Sharia Laws, were also recognized and received tokens of appreciation.
The awards were given away by the Malaysian High Commissioner, Nazirah Hussain, company's Chairman, Osman Kassim and its Managing Director, Faizal Salieh. Salieh, said, "A small step that Amana took in 1997 has led to a major revolution in Sri Lanka's Islamic Financial Services Sector. Today, we stand in the forefront of this revolution creating challenging and innovative waves and trends in the fields of Islamic finance, Islamic banking, Islamic insurance, Islamic fund management and Islamic stock-broking."

---
CNCI awards for industrial excellence
The Ceylon National Chamber of Industries (CNCI), will hold its CNCI Achiever Awards for the 6th consecutive year on July 6. K. Ratnarajah, Chairman of CNCI told reporters that, "Participation is open to any sole proprietorship, partnership or limited liability company engaged in a manufacturing or specified service industry for at least three consecutive financial years ending either March 6 or December 31, 2006 in Sri Lanka or in any Sri Lankan industry operating in a SAARC regional country." He added that there would be a special SAARC regional country awards presented to an outstanding industry / business, which has achieved industrial excellence as nominated by the respective Chambers of each of the SAARC countries.
Rathnaraja said if an industry is to become world class and be competitive locally and globally it is essential that they conform to international standards in quality and productivity. This year CNCI has added an extra large category to encourage mega industries in the country to participate in the contest. Each category will be awarded gold, silver, and bronze trophies and two merit plaques which include national awards.
The Provincial Award is to be presented for three categories including medium, small and micro. For each category there would be a Gold, Silver, Bronze and two merit awards. Outstanding entry for the "Provincial Award" will also be considered for the "Sri Lankan National Award." Application forms and guidelines for the contest are now available at the CNCI secretariat, Apartment 20, first floor, Galle Face Court 2, Colombo 3.

---
PGIA's new diploma programmes
The Postgraduate Institute of Agriculture (PGIA) of the University of Peradeniya is introducing two new postgraduate Diploma programmes for mid-career professionals.
They are on Development Practice and Management for development workers in NGOs and public sector; and on Applied Statistics aimed at providing hands-on skills on statistical applications for professionals in Medicine, Business, Law and Social Sciences etc.
The classes will be held during weekends as it is primarily meant for those who are working, a PGIA statement said. A highly qualified and experienced staff drawn from the relevant disciplines in the university and professionals would form the teaching panel.
---
SriLankan to simplify air fares
SriLankan Airlines said this week it will incorporate the fuel surcharge into the air fare, effective April 1."The airline will implement this change to most destinations with a few exceptions, due to regulatory issues. This will enable clarity and simplicity of air fares when quoted to passengers. Government and airport taxes will continue to be collected separately," said Manoj Gunawardena, Head of Worldwide Passenger Sales.
He said the step is aimed at having a transparent fares structure in place for SriLankan customers who will be quoted a fare inclusive of fuel surcharge instead of the present practice of quoting it separately. This move is also in line with the recommendation of IATA, the industry governing body.
---
National policy on plantations prepared
The government has devised a national plantation policy for the benefit of tea industry identifying the needs of producers and investors as well as the international marketing dynamics, Minister of Plantation Industries D.M Jayaratne said last week.
Guidelines will also be issued for those who are engaged in the tea industry to protect the environment, he was quoted as saying at a meeting of heads of state tea plantation institutions in Colombo. The minister noted that there is a huge gap between the purchasing price of green leaves and the selling price. Cultivators should be paid more money for their produce with the new tea plantation policy according high priority to encourage producers.
He issued instructions to officials to devise a scientific method to process refuse tea as better quality tea and to supply it to local market. Refuse tea is a by product obtained during the normal tea production process.
Measures will also be taken to improve research activities at the Tea Research Institute under the new policy initiatives. Laboratory facilities will be improved and necessary financial provisions will be made to bring down equipment for quality testing. Minister Jayaratne emphasized the need to obtain the HACCP certificate for local tea. The production of value added tea will be promoted rather than bulk tea, he said.
He also noted that action will be taken to grant Rs 64 million to tea small holders adding that this payment was delayed due to the failure to invest the revenue received from the cess tax in the plantation sector. Secretary to the Ministry of Plantation Industries J . Abeywickrema, Chairman Tea Board Lalith Hettiarachchi and other officials were present.
---
Ceylon Chamber of Commerce is 168
The Ceylon Chamber of Commerce (CCC) celebrated 168 years of exemplary service to the business community this year. Established on March 25, 1839, the CCC is amongst the few legendary institutions in the Asia Pacific Region to hold such an unbroken record.
Having commenced operations with coffee, followed by tea, rubber and coconut sectors, CCC has now evolved to cover all sectors of the economy and identifies itself as a Confederation of Regional and Sectoral Chambers of Commerce and Industry, Trade Associations, Employer Associations and Bilateral Business Councils. CCC claims this status having formed alliances with 13 Regional Chambers, 41 Trade, Product and Service Associations and 18 Bilateral Business Councils, a press release from the chamber said.
Playing a catalytic role in the development of the business sector it initiates action to identify future trends, focuses on key issues, and assists in the development of strategic plans to meet new challenges and opportunities. It also maintains close links with the government sector and multilateral aid agencies and provides a platform for the Private Sector to discuss issues affecting industry. CCC's role extends to that of an intermediary between the public and private sectors.
The CCC is the only Chamber in Sri Lanka with ISO certification and works towards its vision of being the Benchmark Chamber of Commerce in the Asia Pacific Region and has over 520 members covering the entire spectrum of the business community ranging from sole proprietors to multinationals.
---
HNB AGM calm, Vittachi absent
The Hatton National Bank AGM this week saw business tycoon Harry Jayawardena being re-elected to the board but his former friend and now rival Dr. V.P. Vittachi was conspicuously absent. The meeting was a tame affair.
Informed sources said the intriguing two pictures in the annual report which has two separate photographs of the board where in one Dr. Vittachi appears together with Raj Obeyesekere and Jayawardena appears in another with other directors was done at the instigation of another senior director.
This latest development has given rise to the relationship between the former friends coming to a head after last year's incident when Jayawardena shut out his chairman (Dr Vittachi) from the annual report of the Distilleries Corporation.


---
Cathay considers resumption of Colombo flights
Cathay Pacific Airways is reviewing security measures in Colombo and will make a decision as early as next week on whether or not to resume its services to Colombo, the airline said. Services were suspended on Monday following the closure of the airport earlier that day after a raid at a nearby military airbase.
Cathay Pacific Chief Operating Officer Tony Tyler said, "While safety is our overriding concern, Cathay Pacific remains committed to Sri Lanka and hopes to resume services as soon as possible. We would like to thank the Sri Lankan authorities for their ongoing support while we review the situation." Special ticketing arrangements have been put in place for Cathay Pacific passengers following the suspension of services.
---

JKH moves out of Pizza Hut, Delifrance
John Keells Holdings on Friday said it had exited the restaurant business with the sale of Keells Restaurants (Pvt) Ltd and Crescat Restaurants (Pvt) Ltd, holders of the Pizza Hut and Delifrance franchises, respectively, to Gamma Pizzakraft Overseas (Pvt) Ltd.
"The parent company of Gamma Pizzakraft is presently the franchise holder for multiple Pizza Hut franchises in the 'national capital region' of Delhi in India," a JKH statement said.