Brandix ranked Sri Lanka's largest apparel exporter by EDB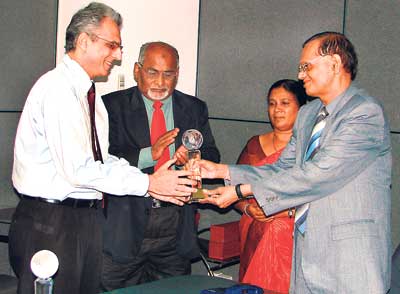 Picture shows Minister G. L. Peiris presenting a plaque to Brandix CEO Ashroff Omar.
Brandix, the Sri Lankan apparel powerhouse with global aspirations, has been formally confirmed as the country's largest apparel exporter by the Export Development Board (EDB). A ranking of Sri Lanka's top six exporters on the basis of export turnover was released by the Board this week, at a meeting convened for Minister of Export Development and International Trade Prof. G. L. Peiris to meet representatives of the six organisations for a discussion, according to a company statement.
Brandix, with a consolidated group turnover of US $320 million for the year ending March 31, 2007, is the highest ranked apparel sector player among the top six exporters. Commenting on the formal recognition of the group's contribution to the national economy, Brandix CEO Ashroff Omar said: "Brandix has been making substantial investments in Sri Lanka and it is encouraging to see that our efforts have contributed very tangibly to the export economy of the country."
Brandix has pursued an aggressive growth strategy to counter the challenges of the post quota regime. Over the last three years it has invested Rs 6.6 billion and in the last year alone the group has invested more than Rs 2.5 billion to expand its Sri Lankan operations. Investments of Rs 3.5 billion are in the pipeline for the new financial year.
Omar said the group, which provides direct employment to over 20,000 people, had invested in manufacturing infrastructure for new product categories like Activewear, and in the enhancement of its Research & Development and design capabilities. Elaborating on some of the Group's recent investments in Sri Lanka, he said the Brandix Centre of Inspiration (BCI) the Group Casualwear Cluster's one-stop point for design to delivery, has already contributed in terms of productivity and effectiveness. BCI is a 250,000 square foot state-of-the art, uniquely designed facility housing a top notch product development and design centre, central warehousing and cutting facility, marketing and merchandising operations.
Another recent investment, Sintesi Limited, will provide research, design, and manufacture of moulded products. This new venture will add value to the manufacture of intimate apparel and will commence operations at a 10 acre facility in April 2007. Focused on innovation, the operation is equipped with state-of-the-art hot-melt, foam moulding, bonding machines and other equipment.
In September 2006 Brandix formed a three-way joint venture with Quantum Clothing Group, UK and Lanka Equities (Pvt) Limited to establish Stevensons Lanka (Pvt) Limited, an exclusive garment dyeing operation at the Biyagama Export Processing Zone. The plant is the only exclusive dyeing plant in the country and is equipped with state-of-the-art machines for dyeing cotton garments as well as softer garments such as lamb's wool, cashmere, acrylic and more sensitive blends of cotton and woollen garments.
Brandix has also ventured into innovative related vertical operations such as the Brandix Apparel City in India, a 1000-acre apparel manufacturing park which is expected to generate investments of US $ 1 billion in its first five years. This mega undertaking has also paved the way for Brandix to create opportunities for organizations aspiring to provide related services at a global level. In February, the Hayleys Group's third party logistics specialist Logiwiz entered into an agreement with Brandix to set up and manage a US $ 15 million central logistics hub for the Apparel City, the statement added.
"We are firmly rooted in Sri Lanka and are committed to investing in the future of the country's apparel industry, whilst leveraging on our expertise and experience to position Sri Lanka as a regional apparel hub," Omar said.
Brandix, which comprises 25 fully-integrated manufacturing facilities backed by strategically located international sourcing offices, is a preferred solutions provider to some of the world's best brands, including Gap, Marks & Spencer, Victoria's Secret, NEXT and Abercrombie & Fitch. The Group specializes in casual bottoms, intimate and active wear, textiles, knitted fabrics, sewing and embroidery thread, accessories and hangers, and offers wet processing and finishing and fabric printing.