By Bandula Srimanna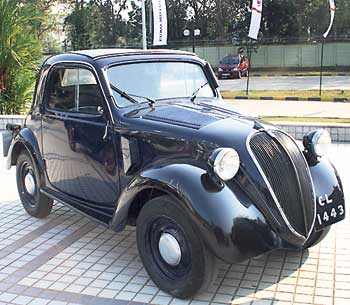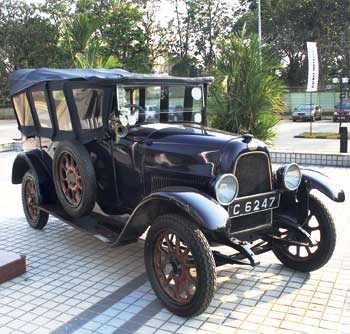 Old FIATs on display. Pix by J. Weerasekera
FIAT -- the oldest car in Sri Lanka was re-launched this week with a new product in the market with some industry news -- the local car market has a considerable growth potential with 12 out of every 1,000 Sri Lankans owning a car at present against India's seven per 1000 people.
These details were revealed by Giovanni Cenere, Regional Manager for Asia Pacific, FIAT Automobiles S.p.A at the launch of the first three models from FIAT's new generation of cars. The local agent plans to market 600 FIAT vehicles this year. FIAT first entered the local market in 1903 through Colonial Motors. In 1973, flamboyant entrepreneur Upali Wijewardene began assembling the FIAT till 1976.
From then the agency was retained by Colonial Motors before Premier Automobiles took over in 1993 until 2005 when Euro Motors came along.
Cenere told reporters that the demand for cars is dependent on a number of factors. The key variables are per capita income, introduction of new models, availability and cost of car financing schemes, price of cars, incidence of duties and taxes, depreciation norms, fuel cost and its subsidization, public transport facilities etc.
The relationship between FIAT and Sri Lanka is over one hundred years old, he said. The new models were launched by Euro Motors at a ceremony held under the auspices of the Italian ambassador in Sri Lanka Pio Mariani. Euro Motors showcased the first three models from FIAT's new generation of cars saying these car models which encompass unique customized features created specifically for the Sri Lankan market, are the FIAT Panda, the FIAT Doblo, and the FIAT Grande Punto .
Euro Motors Chief Executive Officer Mahinda Jayaratne said that his company is looking forward to a strategic partnership with FIAT both for its enhanced business potential and for the exciting possibilities for potential car buyers in Sri Lanka.