SAARC: Just a bark
On April 3 and 4, the South Asian Association for Regional Cooperation, the world's biggest regional grouping, will meet in New Delhi, but for more than 1.6 billion South Asians, it is largely a non-event. Twenty-two years after SAARC was formed and its leaders met for the first time in Dhaka in 1985 with a vow to raise the living standards of teeming millions languishing in abject poverty, the grouping today resembles an abandoned ship in stormy seas. The initial enthusiasm which helped SAARC leaders to propel the ship in the early stages is either missing or muted.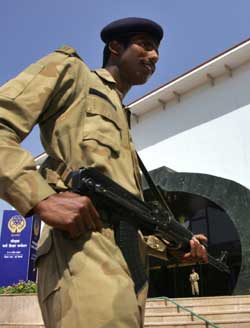 A security personnel stands guard at Vigyan Bhavan, the venue of this week's SAARC Summit in New Delhi
The early leaders of SAARC, when they signed the SAARC charter, said "they were conscious of their individual and regional strengths, their potential as a huge market, their substantial human and natural resource and of the complementaries of their economies." Though optimistic, Sri Lanka's then President J. R. Jayewardene was the first to point out the troubles ahead. In his address to the inaugural meeting, he warned, "SAARC will have to sail through a turbulent sea".
"We are setting this ship afloat today. There may be mutiny on board, I hope not. The sea may be stormy but the ship must sail on and enter the ports of poverty, hunger, unemployment, malnutrition, disease and seek to bring comfort to those who need it," Jayewardene said.
Has SAARC done it? When in the past SAARC's failure to achieve its objectives was pointed out, apologists and regionalists would defend the grouping by saying that one could not compare the progress of SAARC with that of other regional groupings such as the European Union or the Association of South East Asian Nations (ASEAN). But today, there is hardly anyone to come forward in SAARC's defence.
The question as to why SAARC as a regional grouping has failed needs serious analysis. Advocates of South Asian cooperation might point to several areas where reasonable progress has been made. For instance, the South Asian Free Trade Agreement which came into force in July last year. Yes, SAFTA was a major achievement but other areas where agreements have been reached have not brought the desired result to benefit the people because most of those agreements are largely cosmetic. Areas of cooperation are many, but no real benefits have trickled down to the grassroots level or made any impact on the day-to-day life of South Asians.
With a SAARC identity or South Asian solidarity being largely part of political rhetoric, SAARC's role has been greatly diminished and the annual summits are just a platform for talks between its leaders. SAARC's failure to bloom as a powerful regional body could be attributed to a single factor — each member state's national interest. Every member wants to get as much as possible from SAARC, if there is any, but share with other SAARC members as little as possible. There is no South Asian ideological bond that unites the people of seven countries — Bangladesh, Bhutan, India, Nepal, Pakistan, Sri Lanka and the Maldives — though poverty is a major common strand that makes us understand each other's plight.
Poverty does not allow us to share our meagre resources. It sends us into a shell and tells us to protect whatever we have. India, for instance, will not come forward to eliminate poverty in Sri Lanka until such time it reaches a stage where every Indian lives above the poverty line, and that too, if it has political will to share its wealth in a SAARC spirit. In recent years, the South Asian region has recorded remarkable economic growth rates. Please note it is not because of SAFTA. But the growth is uneven not only among members but also within each member state.
In India and Pakistan, the growth has seen a growing middle class while it has also widened the gap between the rich and the poor. In other member states, the middle class has become poorer, though the economy has shown a reasonable growth rate. This uneven growth fashion does not augur well for the progress of SAARC towards a unified economy. SAARC was essentially an economic grouping and it was formed at a time when regional integration was considered a mantra for miraculous economic progress. On South Asia's east, ASEAN and on its west, the European Union stood as success stories of regional integration for us to emulate.
The modern version of regional integration was a post-Second World War phenomenon. The idea of European regional integration took place against the backdrop of rebuilding war-ravaged Europe. It was Britain's war prime minister Winston Churchill who came up with the idea of regional integration during a lecture at the Zurich University in 1946.
The foundation for the European integration began with the signing of the European Coal and Steel Community in April 1951. It has taken nearly six decades for the European regional grouping to become what it is today through a process of evolution. SAARC has not evolved in the manner the EU has. SAARC is today more or less what it was 22 years ago.
Besides, the EU also consisted of economically like-minded states. Even today, a country seeking membership in the EU should meet certain economic and political criteria. These criteria are considered necessary for the survival of the EU which is not only a unified economy but also a political body that cuts across boundaries of sovereignty of member nations.
But SAARC is not like the EU. It is largely national interest-based politics that decides whether a country could become a member in SAARC. In the upcoming summit, Afghanistan will formally take its place as a member although Pakistan had initially expressed its reservations. Knocking on SAARC's doors are Iran and China, but it is unlikely they will get membership. In Iran's case it may be geographical reasons that stand against its membership, but in China's case, it is India's opposiiton that is likely to block its membership.
The relative absence of political mistrust among European countries was another plus point that helped foster European integration. But in the case of SAARC, its failure is often attributed to the rivalry and mistrust between India and Pakistan. SAARC in a geographical sense is India-centric. India is the only country that shares land or sea borders with every other SAARC member and therefore at one point or another had territorial disputes with them, with the Maldives being an exception. Kashmir is the main stumbling block in the way to peace between India and Pakistan. The Kashmir dispute is another classic example to show that countries put their national interest before regional (SAARC) interest.
If more countries join SAARC and it expands beyond its South Asian boundaries, incorporating Iran, China, South Korea and other countries or if it amalgamates with ASEAN in a giant regional grouping, perhaps the negative effect of mutual mistrust between countries could be minimized. But such a grand union is largely a dream of regionalists.
It is encouraging to note that some countries and other regional bodies are clamouring to obtain full membership or observer status in SAARC though it has failed to achieve much of its objectives. It is indeed a clear testimony to its potentials at a time when globalization has checked the trend of regional integration.