'Nisala Gira' laying bare elitist drug mafia
Nisala Gira' (Silent Honour) a moving portrait of a woman and a discovery into drug peddling and addiction in the high class society has completed its post production and is ready for release.
Debut directorial venture by Tanuj Anawaratne, to the well researched story and screenplay by Yolanda Weerasinghe the film is an insight into the lives of women prisoners and their children who pay for the crimes for which they are not responsible. The internationally awarded actress Nita Fernando plays the double role as the producer and the challenging lead of a wife of an uncorrupt politico, an affectionate mother sorrowfully bearing the loss of her son, a drug addict, a prisoner and finally as mother to a fatherless child born in prison.
An outcome of a comprehensive research lasting nearly four years into drug smuggling and lives of drug addicts 'Nisala Gira' has been recommended by a number of principals in leading schools, psychiatrists and physicians who have seen the film. Based on stories of true life incidents and characters the film carries part of a tragic experience relating to a drug addict by the scriptwriter Yolanda herself. For the first time in Sri Lanka 'Nisala Gira' investigates into the hidden episode of the drug menace of the influential Colombo based high class.
'The high class society is ashamed to tell that their child is a drug addict. But the bitter truth is that anybody who sees this film would realize relate the story in this film to their own lives' says the scriptwriter, Yolanda Weerasinghe.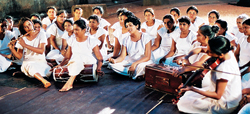 Some of the dedicated cast who themselves investigated night life in Colombo experienced the violent reaction by the sons of so called high class and influential in society who were under the influence of drugs.
The film, a massive production with filming at over twenty five locations including the Mayor's House, Colombo, Bogambara and Welikada prisons, the well-known artifacts shop 'Gandhara', Independence Square, Scottish Church, Hulftsdorp court complex, Sea Sands, Aluthgama and Holiday Inn hotel in Colombo.
An international distributor who viewed the film recommended it as a slick film which has nearly 40% shot in a real prison for the first time in the motion picture industry.
Nita Fernando who proved her prowess as a producer in 'Pawuru Walau' (Walls Within) has repeated her excellence in 'Nisala Gira'.
'The support I received from the prison authorities to the Mayor's House and sets assistance to the breath taking lead cast was unforgettable," said Nita speaking about role as the producer.

'To the complex role I had to do a lot of study including observing how women drug addicts consume drugs and the lives of the female prisoners' she added.
'The reactions of the drug addicts were completely different and complex compared to those under the influence of liquor. It is mainly with their eyes that one can identify the drug addicts' the experienced actress said.
We are very happy with the first time director, Anuj Anawaratne who was both cooperative and flexible in developing the script and film, said Nita and Yolanda who offered their maiden project to the young director. Both the director and the script writer were impressed the with performance of the young and talented cast.
'Nimmi Harasgama, Damitha Abeyratne, Kanchana Mendis, Angela Seneviratne, Rozanne Diasz, Chandra Kaluarachchi brought a fantastic performance with two main male roles by veteran Ravindra Randeniya and Saumay Liyanage who was excellent. Iranganie Serasinghe did the icing,' the duo said.
Yolanda writes her own story
'In 1981 I was attacked by a drug addict in Australia. That was when I was expecting my daughter and I was stabbed by this addict, who robbed the house including sentimentals like my wedding ring and my mother's wedding ring out of which I made a necklace for my son.

Yolanda Weerasinghe
This shocking experience was the beginning to my story in 'Nisala Gira', said Yolanda, who is an Australian citizen for the past 32 years.
'Following this dreadful experience I started having hallucinations and the result was I got addicted to 'Serefix', an anti depression drug. Later I was made to listen to the cassette comprising my speech.
So it was mainly based on my own experience I developed the character of 'Radha' played by Nita.
'I was really satisfied with her performance,'Yolanda said.
Later I decided to be of service to the drug addicted youths in Australia and worked for a rehabilitation organization where I came across many a moving tale of how the children of rich and influential families ended up being addicts.
Yolanda had researched a number of youths here as well including the youths at 'Nethra' rehabilitation centre in Sri Lanka.
'When I came to Sri Lanka to do research on this, I found that ours is not much different to the Australians when it comes to drug addicts. The worst is that the majority of them are our future citizens' she added.
"So I dedicated my story to all my friends who had lost their loved ones to drugs," Yolanda said.
Tanuj : A director in the making
'I was glad about the trust I earned by the offer of this film' said debut filmmaker Tanuj Anavaratne who had made award winning dramas.

Tanuj Anawaratne
Awarded the Best Director and Best Scriptwriter of the Youth Drama Festival in 1994 and 1997 Tanuj was the assistant director for two controversial feature films 'Flying With One Wing' (Thani Thatuwen Piyabanna) and 'Letter of Fire' (Aksharaya) by Ashoka Handagama.
Asked about the new challenge 'Having gone through the story I am sure that I did the best visual treatment that Yolanda's script required' Tanuj said with confidence.
The Tale of 'Nisala Gira'
The film depicts the emotional portrait of Radha, wife of an incorrupt politician who fights to eradicate the drug menace. Her life changed by one swift and tragic death of her only child Arjuna caused by the underworld drug kings.. She loses all that she holds dear... torn by grief in a hidden web of drugs. She becomes a pawn of an international drug cartel., betrayed by her own innocence framed and imprisoned by a ruthless close family friend Cynthia Nelson a woman of independence and success with an ambiguity of character... a socialite who has connections with the international mafia.
Her only daughter Nicola Nelson beautiful, sensuous is a rich and famous young woman... a ecstasy addict. Marko Richards Casanova drug peddler is handsome... persuasive and daring, destroys everything that Radha values in life... gets closer to Radha.
Abandoned by the man she loves Radha gives birth to her daughter Devindi (born a little criminal without a crime) in prison. She has to rebuild her life as she believes in Rebirth.