Protecting our own space on earth
It was 5.30 in the morning of what was to be yet another busy working day. In order to catch up her company staff transport, a young female business executive from a suburb in Colombo was rushing through the morning routine like many of us do. As usual, she entered the attached bath in her room and she saw no reason whatsoever to lock the door within, as she rightly believed that - this is her own private kingdom on planet earth. She started to hum a melody of a latest Shakira tune and the flowery water flow from the shower added a bit of a rhythm and cool. The dawn of a beautiful morning had just begun.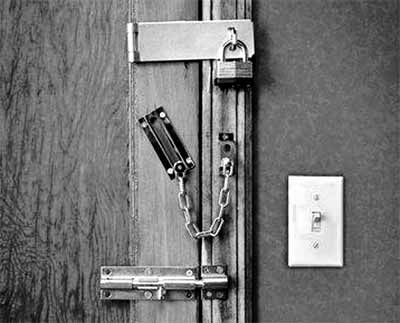 The "gurus" have cautioned us over and again to "Expect the unexpected". The only thing she expected was to dress up nicely and get to the road top in time. But, a well built rowdy man elsewhere had other intrusive ideas. In fact, he was not roaming elsewhere; he was already entering her bathroom with a pointed sharp knife at her body. The young lady attempted to cover herself and to scream seeking help – no matter from who – God, king or the house maid - all she needed was some protection. To her utter dismay and surprise, she realized that her voice was just a frail air flow - without sound.
The criminal was in some kind of a mighty rush. He grabbed her thick gold chain and the bracelet that she was wearing, then collected few modern attractions like mobile phone, digital camera and a wrist watch from the room and fled the scene in a flash. Only the criminal can someday answer the question, as to why she was not sexually harmed even though the potentialities were in existence during those dreadful moments. May be that the criminal opted to be rational than being emotional.
Can this (or more) happen to one of us tomorrow? This is just a single real example of what is happening in and around our homes, without us fully realizing the gravity of the risk. Breach of home protection is simply placing our own self and our beloved family under a great risk - in terms of innocent lives, hard earned home assets, confidential family data and our essential corporate capabilities. Due to pressures in our ultra busy corporate commitments, there are instances that we tend to carry on unconcerned or postpone the needs of protection at home that shelters none other than the most precious creation by us in our life time – our family.
Crimes against homes are a reality and a factual truth. We don't need to engage in an indepth study of statistics to understand the increasing risk level in terms of protection of ourselves and our families. The corporate executives are under many unseen protective risks. The wife can be put under intimidation and risk in order to silence, win over or gain grudging support for which, the husband in fact opposes. Their children are at the risk of kidnap and subsequent ransom or loyalty demands. This kind of personal disaster does happen when we least expect it. The most recent example to such stunning crime is the abduction of a family relative of a high ranking police officer in Colombo.
The organized criminals, loosely affiliated criminals, deserters of the military, under-world elements and urban terrorists – cruelly motivated by individual and political motives create a recipe for 24 hours of trouble. The seriousness is that - they design the time, place, type of crime and the power of force against us and our families, while we happily watch our favourite weekend movie - without a clue of a criminal tsunami that is going to strike us.
The protective options that could come to rescue us can broadly be segmented as effective preventive and responsive police controls, manpower security protection, electronic security protection and exclusive home and family protection training - to name a few. Above all else, it is the realization of the undercurrent risk and focused mindset in personal protection that will save us from the imminent danger and the subsequent negativities.
As the saying goes, "The impact of an intruder can only be determined by what is no longer in existence". Everything is possible while we are here. Nothing is possible when we are not here. It is our protection that decides our rise up or the sudden down fall. Not convinced yet? Just think of the late Lakshman Kadiragamar.
The author of this new series is the Strategic Security Specialist / Pragmatic Trainer & CEO of the Strategic Security Solutions – the first ever corporate protection & fire safety consultancy venture in Sri Lanka. He can be reached at
Email – solutions@sltnet.lk