Voices of hope
A beaming Salman Gadit received the Lyceum Challenge trophy at the Champion Junior Speaker Contest 2007 held on February 19 at the BMICH.
Organised by The Colombo Toastmasters in association with the Lyceum Toastmasters and Kandy Toastmasters, the event held for the fourth consecutive year provided a much-needed platform for students to develop communication and public speaking skills.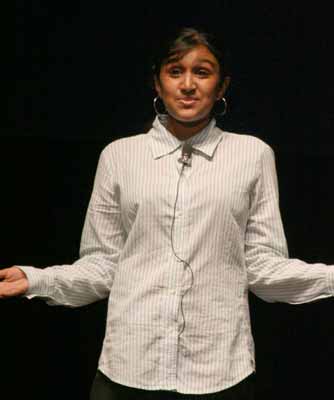 Nethmi - Pix by Berty Mendis
In his winning speech on the topic 'The Wrong Number' Salman Gadit of Lyceum International School drew a humour-laced analogy between dialling wrong numbers and making mistakes in life by taking the wrong path. "Do not lose yourself to the wrong number by giving up. Redial and retry to be successful as Churchill, Einstein and Michael Jordan did despite their failures along the way," he urged, in his inspiring speech, delivered clear and concise.
It was third time lucky for Salman who was finalist during the previous two years. "I redialled and did my best," he said recalling hours and hours of dedicated work also acknowledging the training provided by his Speech Teacher Nihal Jayasinghe. "It is my confidence that did it," he added. In his thank you speech he recognized the encouragement provided by his parents and siblings. "It took years of their money, blood, sweat and tears," he said.
Nethmi Perera of American College was awarded first runner up for her speech entitled 'The shame of Venus' dealing with the sensitive subject of sexual abuse. Of the problem that reaches far and wide, "such acts of hate and intolerance are tearing our country apart," she said, explaining how abuse is worse than death. While occasionally women are to blame, most of the time they do not live to tell the tale or are prevented from going public because of the stigma of being labelled a social outcaste.
Pointing to cases where no justice is served, "Rape affects us all – a father, brother or friend and you need to speak up for your mother, sister and friend," said Nethmi. Concluding on a note of hope and urging the public to contribute to organisations working with this issue, Nethmi's speech delivered in an expressive voice drew much applause.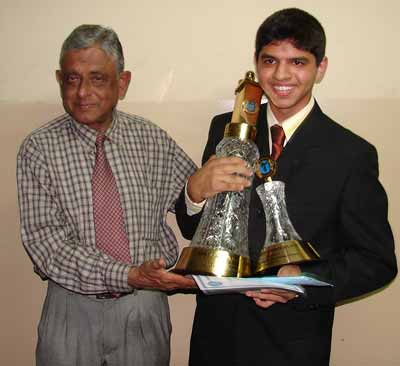 Salman
The second runner up place was awarded to Samitha Makumbura of Lyceum for her speech on 'The Outcast.' Using funny anecdotes from her personal experience and that of her dad – her all-time inspiration, she explained why people should not be discouraged by failures in life. Rather than consider themselves outcastes owing to their failure, they need to show the world their talents. "Those who learn from mistakes are truly victorious," she smiled.
While Christina Mendis from Lyceum speaking on 'Don't get stuck in the mud;' warned the audience to not let issues in their past threaten their future, Lahiru Elvitigala of Lyceum in 'To be or not to be' said 'Anyone can be anything they want – as long as they believe and trust in themselves." He pointed out strategies for success, common to everyone, regardless of colour or size: responsibility, determination and love for the job.
Viran Salgado of Asian International School spoke at length of the greatest emotion that human beings experience. "Love cannot be defined and has no boundaries," he said, attributing the great works of Mother Theresa and Mahatma Gandhi to love for people and their country, providing them with strength and courage to do what they did.
"Know it, find it and keep it," was Minesh Ratnadurai's topic. He was referring to confidence, an essential ingredient for succeeding as presenters, at job interviews and to find partners. The student of Lyceum went on to describe the three stages of gaining confidence, while putting aside fear and doubts.
The evening featured speeches by various eminent personalities. Chief Guest at the event, Chancellor of the Open University of Sri Lanka, Sam Wijesinha in a highly entertaining address filled with personal anecdotes spoke about the importance of arranging thought properly for a speech. "Prior preparation prevents poor performance," he said. Mr. Wijesinha who found the performance of speakers encouraging, commended the services of the Toastmasters in preparing students for the future.
Principal Sponsor, CTM Mohan Lal Grero speaking of his own experiences, highlighted the importance of effective communication and public speaking in particular to conquer the world and be a global citizen.
All participants were judged for their 4-6 minute prepared speech as well as their 2-3 minute impromptu speech for which they were given only 20 minutes to prepare. The impromptu speeches that reflected the participants' take on various issues and their ability to think on their feet were on topics such as 'Failures are the pillars of success,' 'Change the World,' 'Love makes the world go round' and 'When I leave School.'
This year's contest saw 149 entries for the islandwide competition from Kandy, Ratnapura and Matara. The seven finalists and reserve finalists were selected after a gruelling round of preliminaries. According to judge Toastmaster Niranjan De Silva, the standard of all speakers was fairly good. However, the organisers were disappointed with the poor response from schools. He hopes it would improve in the future and enable students from east and north to participate too.
Reserve finalists Migara Cabral from the Colombo International School and Tharindra Gunaratne from Ananda College were awarded certificates.
All participants are winners to some extent – for all of them had put in a fair amount of preparation. Not only was their research into their chosen topic evident, but most managed to capture interest of the audience with original and stimulating introductions and a liberal use of quotations.
Going by their voice quality, pronunciation and posture, they do have the potential to be great speakers.