Cricket Stars to open 'Seenigama Oval'
Once they were devastated by the cruel tsunami. Now they are inundated with a very modern facility where Cricketing superstars Muttiah Muralidaran and Chaminda Vaas are teaming up with local players for the grand opening of the Seenigama Oval on Thursday 8 February.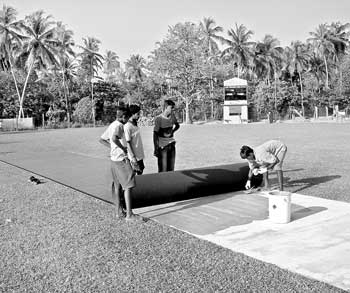 The Seenigama "Oval"
This is the latest project undertaken by Sri Lankan NGO 'Foundation of Goodness' to help empower disadvantaged rural youth as per the generous sponsorship from the Surrey County Cricket Club.The opening event will feature a star-filled 20/20 cricket match between Seenigama – with players including long time Foundation supporters and trustees Murali and Vaas along with Aravinda de Silva, Sidath Wettimuny, Pramodya Wickremasinghe, Champaka Ramanayake, Ruwan Kalpage and Chandika Hathurasinghe, etc.
Chief guest at the event is Paul Sheldon, CEO of Surrey County Cricket Club, the major sponsors of an innovative Sports Centre with the focus on the cricket venue that includes an astro turf beautifully manicured along with the pavilion and scoreboard whilst the other facilities such as the gymnasium, indoor nets, the club house, accommodation centre – sponsored by Cricket New South Wales and the swimming pool – a gift from Bryan Adams, the famous pop star, a children's play park sponsored by Professional Investment Services Australia and the Bryan Adams indoor sports facility is under construction.
Western Australia Cricket Association (WACA) was one of the first to contribute towards elevating the standards of cricket. The grant will also be utilised to improve on player's ability and other facilities.
The Centre is for the use of Seenigama School and local sporting teams in the region who would not otherwise have had access to such a facility, and will help nurture the talents of hundreds of local players.
It is interesting to note that both Sri Lanka's opening bowler and the opening batsman Lasith Malinga and Upul Tharanga hail from this area.
FoG Founder and Trustee Kushil Gunasekera described the cricket centre as a 'miraculous achievement' through the waves of compassion, for the good of the disadvantaged children and youth in the region.
'Thanks to the support of generous donors from around the world, in just one year we've been able to turn a marshy field into a magnificent cricket pitch – good enough even for the stars who are playing at the opening event and cannot describe adequately enough, in words, the magnanimous sponsorship from Surrey County Cricket Club which is historic no doubt, having a facility of this kind in a rural village environment'
The opening will create a wave of new opportunities for children and youth, with potential to develop their skill and talent in pursuing their favourite sport at this sports centre through the envisaged sports training programmes. The pavilion and the scoreboard were sponsored by David Cruse from Australia, the astro turf and the cricket kits were gifted by Harry Solomons also from Australia.
Incidentally superstars Steve Waugh and Kapil Dev played soft ball cricket at this venue, during their visit as ambassadors for the Laureus Sport for Good Foundation, prior to the site being developed into a modern facility. Steve was very keen to see this transformation to what it is today having being bowled the first ball he faced by a village youth'
Shane Bayley – A Sri Lankan Australian, the Project Director of the Sports Centre, who worked tirelessly to see this project unfold is absolutely delighted at the way it has all turned out in the end. His expertise has no doubt enabled us to finetune many areas to perfection. The Foundation of Goodness commend him for his invaluable leadership in making this vision a reality. - MF