Puttalam District swimmers create history
Ananda, Mahamaya to the fore
Defending Age Group Relay Champions Ananda College and Mahamaya Girls School, Kandy stole the limelight to retain the titles at the Sri Lanka Aquatic Sports Union's Championships 2007 staged at the Sugathadasa Indoor Stadium swimming pool yesterday.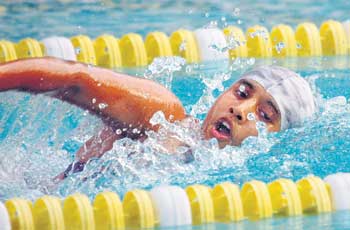 This Musaeus College swimmer from Lane 4 takes the lead in the 4X50 m Relay event at the Sugathadasa Indoor Pool yesterday. Pic by Saman Kariyawasam
It was a ding-dong battle between Ananda and St, Joseph's Colombo for the boy's title. Ananda won on a cliffhanger by 146 points to 143.
Trinity came third with 130 points. Mahamaya girls did proud to Kandy's aqua sports. They won by a street: 187 points to 120 over Ladies College to regain the mantle. Musaeus came third.
The girls under 16 Medley Relay turned out to be a titanic struggle between two Kandy schools – Mahamaya and Hillwood 'A' teams. In a neck-to-neck battle Mahamaya nudged out Hillwood 2:25.59 to 2:26.84.
Another event among juveniles which focused attention was the Under 16 Trinity team. The Hill Capital school forged ahead under two seconds – 2:08.73 to Ananda's 2:09.55.
In the girls Under 12 events Musaeus College firing on all cylinders edged high riding Mahamaya by point 21 secs in the 200 M Free Style 2:33.43 to 2:33.64 secs.
Puttalam District Swimming Association's Under 10 (boys) did proud to the district's aqua sport winning two events: the Medley and Free Style relays in style and thus created history by getting the best over elite schools. Their four member squad comprised: Dineth S.Jayakody,Dileesha de Fonseka,Thumyra Fernando and Sonel Leitan. The boys are coached by J. Fernando.