Best chance since 1996 - Sidath
"Since of late the wickets all over the world have been getting slower and heavily uniformed also the ICC's curators have been involved with the preparation of wickets and the World Cup wickets in the West Indies are not going to be fast tracks. Then at the same time taking the recent changes that the Australian team has been going through the past few months, even they are not going to be the same lethal force that they have proved to be at home", observed Sri Lanka cricket stalwart Sidath Wettimuny when Musing confronted him with a barrage of questions about the pros and cons of the impending cricket showdown in the Caribbean.

Sanath Jayasuriya
He sees the main contenders to the plum as Australia, South Africa, Pakistan, Sri Lanka and India to a certain extent. He feels that India with their ups and downs in crickets are a tentative lot. However I feel that three of the above mentioned will be in the semi-finals.
Then moving on to more common ground Musing posed the question of how ready are we. In answer to this question he mused "Now we are in India and there we have to check a couple of things out. However I think that this is the best chance we've got since 1996. There are two little issues that will have to be looked at – one is in the batting area and the other is in the bowling area. In the batting area we have to see what is happening around Marvan in the middle. This is the slot that worries me. We need to find out who is that guy and that will depend on form and the wickets. I think Marvan is going to play a very vital role in the middle. He will have to keep things together. It is not the amount of runs he scores, but orchestrating the middle. We need one more guy in that batting line up..."
"I remember in 1996 when we were in Pakistan there was so much debate, ultimately we made the right choice. The question was who was going to bat in that middle slot? Was it going to Mahanama or Hashan. We had a team plus selectors meeting and Ranjan Madugalle and I were in Pakistan and I was with the team and we debated a lot about that one slot invariably in most teams it is that one key slot that comes into debate and finally makes the difference
"The other question is that are we going to have a leggie in the side? I think it is going to another issue, because if the wickets are very slow whether we are going to play two spinners – I do not know if it is going to be Malinga Bandara or Upul Chandana, but one leg-spinner to pair off with Muralitharan and that is going to be a problem. In the bowling department we are as well equipped as we have ever been or better equipped than ever. We have choice for the first time and the question will be do we dump a fast bowler to bring in a chap like Malinga Bandara or if he is brought in what would it do to the batting. There are lots of question that needs answers and these will basically evolve on tour. Indian tour will give a little flavour to that as we will not have Vaas and Murali on this tour. This lone will give the rest of the others of showing what they are capable of. I think that we are playing day matches in India and we can try the spin option too. I remember during the last Indian tour they couldn't use Malinga Bandara because the conditions were so damp and he could not grip the ball. Here they will have the opportunity of checking him out. If you have the choice between a fast bowler and a leggie and the wickets are flat, I would go with a leggie because you have the option of doing something different.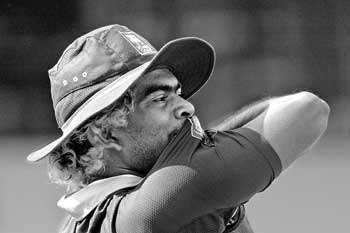 I think our bowling combination is one best that is going around, with Lasith Malinga, along with Vaas and Murali
"We are a more balanced team than we have been for a long time. We have the ammunition. We are equipped. It's just a case of finding the right mix. I am sure Tom (Moody) and the players will get there eventually. It's how we play the initial games and gather momentum. I think our bowling combination is one best that is going around, with Lasith Malinga, along with Vaas and Murali we have a fantastic combination. Malinga is an absolute wicket taker today. He is very different and exiting and he is there to get wickets and that is something that we lacked in the past. When he comes into bowl you expect action and you expect wickets to fall. Then Dilhara is bowling very quick and if he gets his rhythm he is going to be good. In short now we have a choice. To me this is the best ever bowling line up we have had. This is even better than the line up we had in 1996.
Then elaborating on the options that Sri Lanka has in the middle order Wettimuny said "I think that Dilshan is invaluable as a fielder to do that Roshan sort of a role. Then we could have a look at Chamara Silva – I like Chamara Silva as a possible candidate he is a very exiting bat. Chamara Kapugedera is young and and he may not have the same exposure like the others who are in the running along with the composure to tackle certain situations. So I would go with the more experienced Dilshan, Chamara and Arnold. But, finally every thing will depend on form and I am speaking only of the options that we have and getting that right combination.
Then just giving a glimpse of the tactics that Sri Lanka could employ he said "Now with this twenty overs of power play, we try bowling ten overs with power play then bring in a leggie bowl that five in the middle and then go back to power play and then bring Murali late. That is an option that we could try."
Wettimuny was of the view that besides the Australians Sri Lanka would be the side that the other teams would be watching because in the recent past we have earned that reputation. For instance if Jayasuriya bats in five innings he scores in two games and in those two games he has the ability to win the game on his own. At the same time in this team there are three or four players who will consider this to be their final World Cup appearance and they also would strive to go out with a bang and will go that extra mile.
Finally when asked about the post 2007 period the former Sri Lanka opener said "I think Tom and the selectors have done a good job where the beyond 2007 era is concerned. There is continuity. They have been blooding the younger players they have brought in players like Chamara Kapugedera and then in bowling there is plenty. World Cup is one big event. But from there yet we can flow without too much disruption.