Their life is yet sliding away
The recent heavy rains wreaked havoc in the hill country causing landslides and leaving many a person homeless and in state-run shelters but many complain that only those with political influence were getting special treatment in the camps while others were being ignored.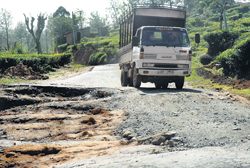 Some of the damages by the recent downpour and land slides
An official of the Hanguranketha Pradehsiya Sabha who did not want to be identified alleged that political patronage was the order of the day.
The numbers in the shelters have dwindled in the past week with 167 families consisting of 487 ersons still remaining homeless. This is down from 1,029 families numbering 3,586 individuals, said N. Wijeratne of the Hanguranketha PS office. The next of kin of those who died in the disaster were granted Rs. 15,000 each by the state.However the remaining refugees will have to stay in the shelters for a while longer until geological tests are completed to ensure the safety of the areas that they reside in before they could go back to their villages.
One worrying aspect for the displaced is the fear that whatever remains of their property would be looted by unscrupulous persons.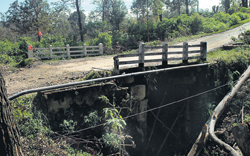 Some of the damages by the recent downpour and land slides
The Viharadhipathi of the Watarakgoda Rajamahaviharaya Ven. Dodankumbure Dheerananda Thera said the dharmasalawa of the temple was made available to house the refugees and that they had received dry rations and clothes from various organisations.
Meanwhile the refugees say that they do not receive any relief given for them through the Walapone PS office but only go to the henchmen of politicos. Even the clothes they received were not fit for wear, they claimed. They cited as an example a case where some blankets were issued only to their favourites while the balance was sold to private shops.
They said they looked forward to returning to their homes and re-building their lives. Some refugees allege that officials in the guise of inspecting harm their vegetations.
One woman who identified herself as Chandanie Jagoda, the chairperson of the Walapone Women's bureau, said that she had received information of attempts to relocate voters as well.
She added that in addition to the misery due to earthslips, they had also become political victims. Some refugees of the Prajasala said that they have 34 children in the campwho cannot go to school due to lack of uniforms and other materials.
Pix by Shane Seneviratne and Saman Kariyawasam