CP Governor calls for more discipline
Governor Tikiri Kobbekaduwa addressing the third session of the fourth Council on Friday called for more financial discipline.
The Governor created history when he made the Policy Statement in Tamil as well to the Provincial Council.
"I feel it is necessary to say that a more careful approach should be made about financial discipline and in preparing budget estimates. Further strengthening of finances should be given utmost care with a view to limit expenditure. In this regard, financial management has to be strengthened and followed up by a proper set accounting system", he said."Every department and all institutes are expected to save three per cent of their expenditure. It is of utmost necessity to have acceptably knowledgeable officers in administration, management and supervision to deliver in an amiable, responsible, efficient and systematic manner so as to make the service receivers happy. I feel that these officers have to be given training either locally or abroad", he added.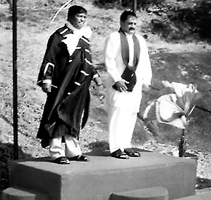 Governor Tikiri Kobbekaduwa accepting the Honour Guard for Inspection. Pic. by L.B. Senaratne
The Governor said that while various programmers were being implemented to create a new Sri Lanka as envisaged in the Mahinda Chintanaya, preparation of suitable policies have to be undertaken in the year ahead to achieve the objectives.
Governor Kobbekaduwa further said the GDP of the Central Province had improved during the past few years.
Touching on the development of education, potable water supply and health the Governor said one had to accept that a proper road network was essential for development. The Central Province had 2,438 kilometres of provincial roads and 8,283 kilometres of rural roads.
He further said that according to a study undertaken by the Asian Development Bank and the World Bank, it had been identified that the poor quality roads in rural areas were a great drawback for any industrial trade or investments.
He emphasized that the objectives of the Provincial Public Service should be to achieve economic stability and social justice in performing the services in a responsible manner with transparency.
He said that every public officer should perform his duties satisfactorily to achieve set targets.
The Governor was received by the Chairman of the Council W.M. Yasamana and escorted to inspect the Police guard of honour headed by Inspector M.D. Chandrapala.
The Chief Minister handed over the Policy Statement of the Third Session of the Council.