Heath hazard looming with acute garbage crisis
Kandy's garbage disposal is running into a crisis with part of the dump being occupied by encroachers and serious shortcomings in disposing of the garbage which in turn is creating environmental as well as health problems to people living around the dumping ground.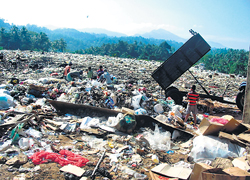 The accumulating garbage dump
The garbage is being dumped at Gohagoda in the Harispattuwa Pradeshiya Sabha area but the necessary precautionary actions to stop the garbage harming the environment as well as causing health problems to residents is allegedly being ignored.
Nealry hundred metric tonnes are collected from the KMC area each day and dumped at this site which originally consisted of around 33 acres of land. However this land area has now shrunk to around 12 acres with encroachers taking over the rest of the land with the blessings of some politicians in the area.
According to KMC Medical Officer of Health (MOH) Dr. Asoka Senarath, the rule is to pile one foot of soil on top of six feet of garbage and flatten it, but it has not been done methodically at this site for years and hence has allowed the garbage to spill over into the environs becoming a major health hazard. Because of the proximity of this site to the Mahaweli River, there is the threat of the river too being polluted.
The reason given for not adhering to this procedure is that the only bulldozer that belongs to the KMC has been under repair for the past three months. This has led to the KMC having to hire a bulldozer from a private company at Rs. 2,500 per hour and in the past there months nearly one million rupees had been allegedly dished out to pay the private operator.
There are only three men assigned to carry out the work at this site whereas 15 are needed to deal with the work load.
Dr. Senarat told The Kandy Times that he had suggested that the garbage disposal be handed over to the private sector but so far his proposals has had no positive response.