Here comes Kandy's Kiri Mama!
~ Siripala Kaththriarachchi is on a nutritious mission spreading the goodness of fresh milk
Milk advertisements are many, whether on TV, in the print media or on the radio. By and large, they advertise the powdered form of milk. But Siripala Kaththriarachchi popularly known in Kandy as Kiri Mama carries his can of milk on his motorbicycle and takes it to his customers, giving them not only a cup of milk to taste but also a lecture on the benefits of drinking fresh milk!
Kiri Mama is from Piliyandala. He worked at the Ceramics Corporation but lost his job during the 1980 July strike and then started a small bakery in Mulgampola, Kandy. But his mind was on another matter close to his heart – dairy production. His life and attitude changed drastically when he came to view the Esala Perahera in Kandy. "I met Dayawathi Sumithra at my sister's relatives' house and married her in 1974," he says with a twinkle in his eye. She is a driving instructress now. After his marriage, he wanted to live in Kandy and thought of starting his own little farm on the plot of land Sumithra had in Dangolla, close to Peradeniya.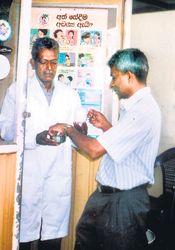 .
Kiri Mama's father had a few cattle in Piliyandala and he knew how to treat them when they fell sick. This knowledge was passed on to Kiri Mama. "When my father passed away, I had to look after the cattle," he says. With all this experience and knowledge, he was well suited to become a dairy farmer. He bought two cows and started his project in Dangolla. He now has nine cows and two buffaloes and in addition to popularizing fresh milk, he sells curd and yoghurt.Kiri Mama has two outlets, one at the Kandy Kachcheri premises and the other at the Kandy Municipality, with four trained girls in smart uniforms serving the customers. He also buys milk from other farmers at Rs.26 to 30 per litre. The milk is then boiled to kill the germs and checked with a lactometer.
A mug of fresh milk costs only Rs.12 and is served with sugar, a piece of kitul jaggery or plain as the customer prefers it. "I give the milk at Rs.10 for expectant mothers and schoolchildren," Kiri Mama says, intent on promoting nutrition. 750 ml. of fresh milk is sold at Rs.50 and 1000 ml. at Rs.60 at his centres. "This is to give the milk farmers a reasonable price," he says.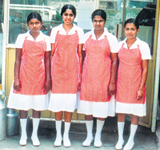 The smartly-clad girls at a milk outlet.
In 2005, he provided milk free to a weight lifter throughout his training period. The best four athletes in the Central Province were selected and also provided fresh milk during their practice sessions.
At present he writes projects on diary farming and production in association with the Industrial Development Authority, Gatembe. "Mr. Weerasekera and Dr. Wijesiri helped me with this work. In December 2004 they arranged for me to open a milk outlet at the Kandy Kachcheri. This was an awareness programme for the citizens of Kandy to encourage them to drink milk."
He is grateful to the later Prof. Rajaguru and Dr. Saliya Silva of the Peradeniya University who has given him all the encouragement and guidance to start this venture.
"The highest milk yielding and production area in the country is the Central Province and even the imported cows give a high yield," says Kiri Mama, adding that he has plans to start a farm on the instructions of Governor Central Province Tikiri Kobbekaduwa. Kiri Mama adds that villagers can be self-employed and thereby improve their financial situation as well as contribute to the development of the village economy. "Youth should be encouraged and trained in milk farming which is gainful employment and not go in search of office jobs," he says.
"Milk is used in Ayurveda treatment," he adds. "I have plans to be involved in this field as well and make people aware of the use of Ayurveda which is close to nature, like milk which is a natural form of nutrition. There are many illnesses that can be avoided such as osteoporosis in old age if a sufficient quantity of calcium is taken early in life," he says.
This lone campaigner is trying hard to educate people of the importance of drinking milk. He can be seen early morning going on his rounds, advising his staff, checking his outlets, talking to his customers . "I feel young when I am doing this work. People should be always active and doing something worthwhile. This is more like a hobby and I enjoy it," he says, offering me a fresh mug of milk.
My meeting with Kiri Mama reminded me of my own experience, once when a foreign teacher of an international school asked me why we Sri Lankans do not drink fresh milk. My answer was that it was not freely available. This teacher of Biology stated he had also asked his students if they drink fresh milk and said they looked nonplussed at the question. Kiri Mama's campaign should be taken forward to encourage Sri Lankans to drink more fresh milk.