Investor needs first at 'First Stop Shop'
The investment promotion concept of a 'First Stop Shop,' by the Central Provinical Council in order to draw investors to the area, was introduced to District and Divisonal Secretaries at a seminar conducted by the Chief Secretary of the Province, P.G.Amarakoon at the Tree of Life Hotel.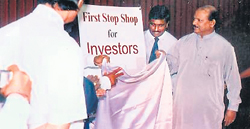 The Chief Minister of the Central Province Sarath Ekanayake unvieling the Plaque of the " First Stop Shop " concept at the Plant Genetic Resource Centre, Gannoruwa.
The concept of a 'First Stop Shop' as explained by Mr. Amarakoon, is a place where all the needs of the investor could be looked into rather than go from pillar to post seeking various details from different outlets. However, he said for the concept to work, everyone should support the effort in helping investors.
He said that the investor was not going to waste his time in seeking answers, unless they were available freely.
One of the main constraints discussed was the allocation of land for projects which is invariably with the Central Government. With difficulties in releasing land would only allow investors to go to other areas or out of the country.
Another aspect that was of prime importance was the obtaining of statistics where one would have to depend on the grass root level government officer. However it was also discussed that there was no source to counter check these figures . The seminar highlighted the fact that a lack of infrastructure in the Central Province also impeded employment opportunities in the area.
There are 23 members in the ' core' group of the ' First Stop Shop' concept, including the Chief Minister and those engaged in the promotion of investors in the Central Province.The investment promotion was sponsored by the Sri Lanka German Strategy Support Programme (ESSP),who also coordinate the work of the core group among the others who addressed the Seminar were the Project Director of ESSP A.M.N.K.Attanayake, Secretary Ministry of Regional Development Punyasiri Subasinghe, Secretary of the Provincial Ministry of Industry D. Shirani Weerakoon, Director of the Investment Promotion Ministry H.P.Jayananda, Acting Programme Coodinator of ESSP A.Ratnayake and Investment Promotion Specialist Jayantha Rupasinghe.