Sweet tooth
Sudath Mullegama a resident of Kandy has earned a reputation for himself as a chocolatier turning out birthday cakes and all types of chocolate goodies.
Sudath Mullegama
Having trained under Professor Ernest Hilbon of the Kapiolon Community College of the University of Hawaii, Chocaltier Sudath Mullegama has hands on experience working in leading hotels in the country.
He commenced his career as a creative pastry chef, until he took over the production of cakes and other material with only chocolate cream and material.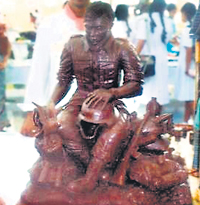 Chocolate carving created by the Kandyan Chocolatier
Leaving Dharmaraja College, Kandy he entered, the Ceylon Hotel School and followed a course in pastry making. Afterwards he went onto work as a pastry and chocolate chef at Hunas Falls , Le Kandyan and the Mahaweli Reach Hotels.
Having worked abroad, he specialises in the production of confectionaries using chocolate as the main ingredient base.
He has also won two silver and two bronze awards at the Culinary Art Exhibitions organised by the Chefs Guild in Sri Lanka. Having started his own business, Sudath now operates from home at Ampitiya Road turning cakes for all those chocoholics.
Sudath could be contacted on 077-9218478.