Fire at Kandy Library claims life of child
Firemen sans water to douse flames, say witnesses Fire Dept. denies charges
Firemen turned up late and were minus water to battle Friday's raging fire at the D.S. Senanayake Public Library which claimed the life of a child and caused extensive damage to the building and the priceless collection of books, Municipal Councillors and eyewitnesses said.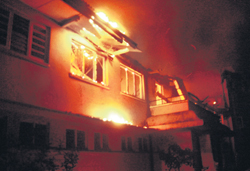 The fire raging at the D.S. Senanayake Library Auditorium. Pic.by Shane Seneviratne
Kandy Muncipal Council members had called Mayor L.B. Aluvihare to conduct an inquiry about the delay of the Fire Brigade arriving and their failure to supply water to control the fire.
A part of the Fire Brigade is located adjoining the premises which caught fire while the other bowsers are parked at the new building put up along Willam Gopollawa Mawatha.
The firemen were booed by onlookers while they struggled to find the hydrants and eventually the Bogambara Prisons had provided water to control the fire.
A spokesman for the Fire Department in Kandy denied the allegations. But eyewitnesses and Municipal Council members who rushed to the scene confirmed that the fire engines had arrived late.
JVP Municipal Councillor Anura Gonawala told The Kandy Times that he would call upon the Mayor to conduct an inquiry into the actions of the Fire Department.
Allegations were also levelled at the firemen that some of them were under the influence of liquor when they arrived at the scene.
The fire broke out during a rehearsal for a musical show and several persons were trapped upstairs prompting bystanders and prison guards to break open the glass window panes to rescue them.
A large number of books were damaged in the fire while some others had become soaked in the water used to control the fire.
The Library has a valuable collection of books and documents.
One of the former Librarians of the Kandy Library Daya Ratnayaka, who is now attached to the Library Services Board, was among those who rushed to the scene of the fire. Governor Tikiri Kobbekaduwa, Chief Minister Sarath Ekanayaka and the Mayor L.B. Aluvhiarae also arrived at the scene.