Ambepussa Rest, travel with time
Ambepussa is a historic town. The very first locomotive in Sri Lanka travelled from Colombo to Ambepussa Station in the mid Nineteenth Century.
Also Ambepussa Rest House was the very first stopover to be built on the Kandy Colombo highway. It is also one of the Ceylon Hotels Corporation's oldest establishments. Built in the era of the British Colonial rule, the Rest House still stands in its original state without many transformations.
A way side stop over on the way to Kandy where one could relax and refresh with a cup of tea or cool it off with a dip in the streamlet flowing gracefully close to the rest house. Complete with eight double rooms and a beautifully constructed banquet hall, Ambepussa Rest also boasts of its way side snack bar, which is a popular with all regular travellers.
Apart from many achievements during the past century and a half, Ambepussa Rest won the Award for the 'Best Decorated Hotel' among the Ceylon Hotels Corporation properties.
'Yes, we won the first place in Festive decoration. It was indeed a good achievement and the staff is really happy about their effort. It was a brain child of our Front Officer Srimal Dunathilake' said Saman Alwis, the Resident Manager of the Ambepussa Rest.
The most unique thing at this place is the colonial touch. The majestic shady trees and palms planted more than a hundred and fifty years ago still stands today providing shade and beauty for all visitors both Sri Lankans and foreigners alike.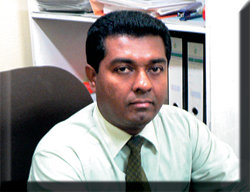 ManagerSaman Alwis
Among the special visitors to the Ambepussa Rest House were the Royal Families of Japan, Thailand and several Dukes and Heads of States.
Ambepussa Rest is popularly known for its authentic Sri Lankan cuisine.
'We specialize in Sri Lankan dishes, but other Western dishes too are available here' Manager Saman said.
Pix by Nilan Maligaspe