Rupavahini celebrates Silver Jubilee with film classics
Celebrating its Silver Jubilee, Rupavahini is to screen a series of latest Sinhala,Hindi and French classics and world famous English films during the month of January.
This special programme will include Benette Ratnayake's recently released ''Sulanga' (The Wind) which will be telecast at the newly introduced 12. 30 pm film belt on January 28 Sunday.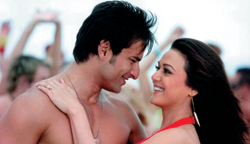 A scene from 'Salaam Namaste'
Sulanga, revolving around four women from different social categories and a professor and shows how different people seek love and happiness. It won rave reviews at a number of International film festivals including Cairo International Film Festival, Mumbai IFF, Calcutta IFF and Cleveland IFF in America.
The film stars Sanath Gunathilake, Dilhani Ekanayake, Palitha Silva, Chandani Seneviratne, Sriyani Amerasena, Roger Seneviratne and Sathya Erandathi Ratnayake in the stellar cast.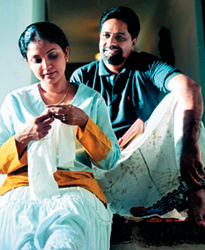 A scene from 'Sulanga'
B. Wishwanath is the cinematographer while Lal Herendranath-art director. Ravindra Guruge is the editor of the movie.
The rest of the screening will be as follows
'Indrakeelaya' on January 21, French movie 'Half a Chance' January 22, Kaun Hai Jo Spno Mein Aaya January 23, 'In The Blink of an Eye' January 24, Antarjali Yaatra January 25, 'Malsara Doni' January 26, Miss Betty's Children January 27, 'Sulanga' January 28, The Private Eye' (French Film) January 29, Qyamat Se Qyamat Tak January 30 and 'Ali; An American Hero' on January 31.
English movie 'Double Victory' will be telecast on January 26 and 'Hindi film 'Salaam Namate' will be telecast at 10. 30 pm on January 27 as weekend night shows.