Seylan sets the pace
Seylan Bank led by CR&FC fly half Amjad Buckhs gave a scintillating performance at the 36th annual Mercantile Rugby Sevens to remain unbeaten in the Group 'A' Cup.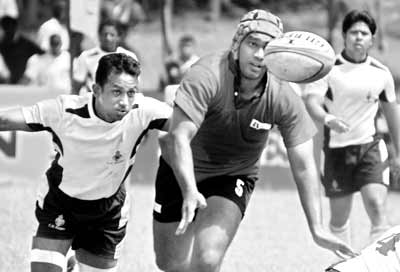 Action during MAS 'A' and Christy Holdings game which MAS won by 12 points to five. – Pic Ranjith Perera.
Last year Seylan Bank 'A' was the runners-up to Butani 'A', losing the final at 5-7. This year Butani Exports are not taking part in the competition.
The other teams in the Cup quarters are no pushover sides – MAS Holdings 'A', JKJH 'A', Access 'A', Christy Holdings with a Fijian player, is certain to provide absorbing rugby when the competition is continued today at the CR&FC Grounds at 9.30 a.m.
The finals will commence at 5 p.m.
Mr.Nushad Perera, General Manager/Sales Marketing Dialog GSM will be the chief guest.
DFCC Bank led by old Trinitian and Sri Lanka lock Duminda de Silva made the highest score of 43-0 against Metropolitan 'A' yesterday. They made their debut to play in the Shield quarters and will meet Standard Chartered Bank today.
Today's quarter-final line up:
Cup: Seylan Bank vs Capitol AE 1; Ceylinco' A' vs HSBC, Access vs Christy Holdings, John Keells 'A' vs MAS Group. Quarter-final losers in the Cup will go to the Plate semi-finals.
Bowl: Quarters – E2 Wis vs Hirdaramani 'A', Dialog 'A' vs V and U Electronics, Brandix vs Dissanayake Enterprises, HSBC Data Processing vs Commercial Bank.
Shield: Suntel vs Muslim Commercial Bank, Hirdaramani 'B' vs Lanka Bell, MAS C vs Dialog 'B', DFCC Bank vs Standard Chartered.
There was a tie-breaker in the Cup for the third place between Access and John Keells 'A'. Access won on a toss. JKJH was placed fourth. Ceylinco' A' was placed second.
Shanaka Fernando (Metropolitan Group) has played in the Mercantile Sevens for 25 years. Today the MRFA will present a memento for his continuous participation in the event.