Troops advance to Kathiraveli
Security forces yesterday captured two more coastal villages along the Batticaloa-Trincomalee main road as they advanced further north after taking control of Vakarai on Friday, military officials said. The Kathiraveli and Komathalamadu areas were captured by last afternoon.
More than 5,000 civilians entered the cleared areas yesterday. Security forces were also consolidating positions in the Vakarai area, where they have taken control of, after dislodging the LTTE.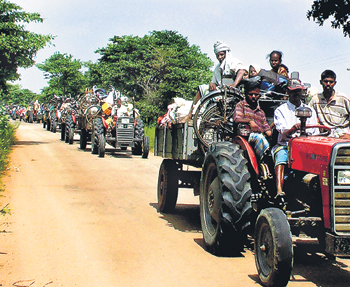 Yesterday's picture of civilians fleeing Vakarai region as they crossed the Ridheethenna area in Welikanda on their way to find shelter in a camp in a government-controlled area. More than ten thousand civilians were trapped in Vakarai when the battle to recapture the town intensified last week. With the recapture of the town, most of the civilians started moving towards government-controlled areas. Pic by Raj Weerasinghe.