Thick or thin polythene in bigger bin
The ban on environmentally hazardous thinner polythene, appears to have run into a bagful of counter products, with thicker polythene replacing what should have been more environmentally-friendly alternatives.
Although the desired result of banning polythene — that were less than 20 microns thick— was to discourage the use of these kinds of non degradable products, thicker sili sili bags and lunch sheets are now flooding the market.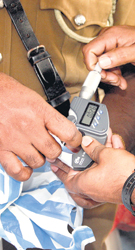 The thickness of this sili sili bag indicates 26 microns
According to an official of the Central Environment Authority (CEA), five million sili sili bags and lunch sheets are used daily around the country. With the ban on the less thicker polythene from January 1, the usage of equally harmful thicker polythene continues and has even increased he warned.
There appears to be a lack of initiative on the part of authorities to promote the use of degradable polythene bags.
"We're not promoting degradable bags as they have certain bad effects, especially given our weather conditions. We have not yet said that it was safe for human use," CEA's Environment Pollution Division Director Lal Fernando said.
However, contradicting this view was Plastic's Packaging, chairman Mervyn Dias who said the weather was ideal for the production and use of degradable bags.
Commenting on the increase of thicker polythene bags he said the import of such material had gone up by about 8000 metric tonnes, costing about US $ 10 million.
He said it was important that universities and other technological institutes conduct research on how conducive degradable bags were for our climate adding that the government should find alternatives for the thinner polythenes before the grace period ended in March and before the thick polythene caused major environmental hazards.
It also appears that authorities have not implemented proper plans to shift to eco-friendly alternatives like Banana, Coconut and Palmyra leaves, Paper, Rattan, Hemp, Jute, Cane and Cotton.
Lakshmi Perera, Actg. Managing Director of Sri Lanka Handicraft Board (Laksala) said although they produce many eco friendly substitutes that could be used instead of polythene the government had not requested for any supplies even after the ban.
"We have about 20 production centres. These centres are not enough to supply for the whole country. But the government could help us to expand the number of production centres and we would be able to produce many eco friendly alternatives at a low cost," she said.
Meanwhile,the non availability of garbage bags has added to the problem of garbage collection especially in the main cities.
CEA Director Genral Mervyn Gunasekera said what was needed was a proper solid waste management programme and the banning of garbage bags was of little use.
"Many developed countries use similar thin, black polythene bags to collect garbage but there is no garbage pollution unlike here. It all depends on proper post consumer management by the local authorities," he said.