Start sex on the right key with musical condoms
HONG KONG, Saturday,Reuters) - Forget chocolates or roses this Valentine's Day -- a gift of musical condoms is bound to be more entertaining. Hong Kong's Ondo Creation, which makes designer condoms, hopes its Idom sheathes will put a more romantic spin on safe sex -- and reduce the risk of a slap on the face that a pack of six might elicit among some conservative Asians.
The Idom itself doesn't sing -- but the mint, strawberry, chocolate and banana flavored condoms come in an attractive package with a music CD to get you in the mood for love.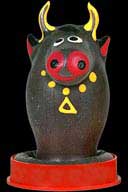 Musical condoms will put a more romantic spin on safe sex
"We create an environment for lovers who would like to try a different experience," said Victor Tsang who runs Ondo Creation.
"We try to create products that are not embarrassing, but very trendy and hip. It's a lifestyle product," he added. Cynics may scoff at the marketing gloss, but the 18 month start-up's products sell across the world. The firm also won a bronze medal in the Industrial Design Excellence Awards run in conjunction with BusinessWeek magazine, which said Ondo had managed to "revitalize the image of condoms."
Tsang, a former IT executive, says his product was inspired by a desire to promote safe sex and to provide a fun, relaxed alternative for what he calls "more conservative" customers. The brand eschews regular prophylactic distributors, instead peddling its ware in bookstores, record shops and trendy nightspots in a long list of cities .