Improving Sri Lanka-Iran business ties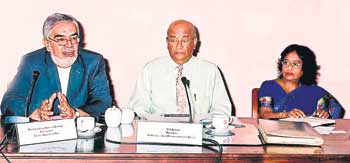 From left - Benham Behrouz, Ambassador for Iran, M. S. Rahim, President, Sri Lanka –Iran Business Interest Group & Managing Director of A M Rahim & Co. Ltd and Puvi Domingopillai, Senior Assistant Secretary General, Ceylon Chamber of Commerce

Benham Behrouz, Ambassador for Iran recently commended the Ceylon Chamber of Commerce (CCC) for taking the initiative of forming the CCC-led Sri Lanka-Iran Business Interest Group and said that he would extend his wholehearted support and co-operation to the group.
Speaking at the chamber, he said Iran which was purely a consumer market before the economic revolution has changed its focus and is now developing its own industries. Referring to links between Sri Lanka and Iran, he said that where Iran was concerned everyone is aware of Ceylon Tea and it is very popular there. Iran has now identified 37 products for import into Iran.
A CCC statement said that the most encouraging factor was that the ambassador welcomed the ideas expressed by the members and agreed to resolve trade- related issues faced by the members.