'25 cents' enriches the lives of children across Sri Lanka
What can you do with 25 cents? "Absolutely nothing!!" many would reply. The rising cost of living and inflation have now rendered this piece of currency redundant and almost worthless. But what if this mere 25 cents can change the lives of thousands of children across Sri Lanka?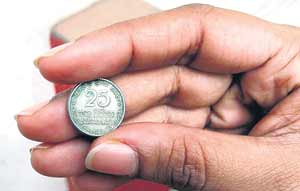 This trivial coin has played a pivotal role in offering a new lease of life to many thousands of children and mothers across this country, Unilever said this week in an innovatively-written press release. This journey began six years ago when Pears the trusted baby care brand of Unilever Sri Lanka Ltd initiated the Safe Hands project with the intention of giving less fortunate children a second chance to life. The sole aim of the project was to uplift the standards of medical facilities and resources for children and mothers in an attempt to create a safe and secure world for them. "What makes this initiative so unique is that all funds utilized towards the project is possible due to the 25 cent contribution by Unilever Sri Lanka from the sale of a Pears product. So every time a Pears product is purchased, 25 cents made its way to the Pears Safe Hands Fund," the release said. The success of this project was possible due to the continuous support of the community. This project has amassed approximately Rs 14 million which has been utilized to fund nine children's hospital projects that were recommended by the Sri Lanka Collage of Paediatricians.
Renuka of Ahangama spoke of how the improved services were a boon to the mothers and children of the surrounding areas and added, "I didn't know that a mere 25 cent could do so much. This used to be a neglected hospital; but with new machines and better facilities, our children have a better chance for recovery." Damayanthi was at the Diyatalawa Base Hospital when the CPAP machine was donated to the premature birth care unit. "Children with breathing complications have a small chance for survival and this new machine is almost a miracle for us. It saved the life of baby and we are happy that we have these facilities. The people in this area are very poor and can't afford private hospitals. Pears safe hands truly gave a second chance to live to thousands of new born babies in this area," she added.
Marketing Director Personal Care at Unilever Sri Lanka, Amali Nanayakkara said the unstinted support of the public has clearly played a pivotal role, with each 25 cent making its way back into the community and in bringing about a positive difference to the lives of our children.