Major expansion drive by Oriflame in Sri Lanka this year
Oriflame Sri Lanka last week announced the forthcoming launch of a revolutionary new line of high performance Skin Care products - 'Skindividual' - in celebration of its 40th anniversary worldwide. Four decades of fulfilling people's dreams all over the world will be celebrated in Sri Lanka during every month of 2007 with exciting consumer offers, special offers to consultants, launches of new products and events, a company press release said.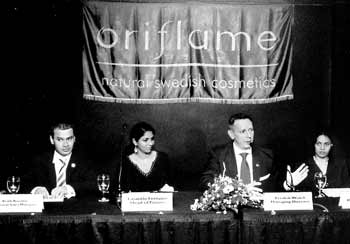 Picture shows from left - National Sales Manager Keith ozairo, Head of Finance Lasanthi Fernando, Managing Director Fredrik Widell and Marketing Manager Shalindi Perera.
'Skindividual is a new generation of skin care products, delivering superior anti-ageing benefits to preserve youth individually. The Oriflame global research centre in Ireland has created the breakthrough Dermo Adapt technology containing a combination of leaf and fruit of Swedish cranberries.
Managing Director Oriflame Sri Lanka Fredrik Widell said that 2007 also marks Oriflame's 10th anniversary year in Sri Lanka. "Our operations in this country have constantly been on an upward trend, while recording remarkable growth levels for almost all our products. We've been marketing around 500 different products from our premier line of cosmetics, offering Sri Lankans the ultimate combination of the best of science and nature, for men and women who expect nothing less than the best for their skin, hair and body. These products are developed through extensive research in botany, cosmetic science and skin care. Whatever one's age or skin type, Oriflame has skin care products to suit one's needs".
Oriflame is an international cosmetics company that markets high-quality natural skincare and cosmetic products through an independent sales force, outside the traditional retail environment. Oriflame Cosmetics is today one of the world's fastest-growing cosmetics companies. Present in nearly 60 countries, Oriflame is the market leader in 30 countries. A sales force of around 2 million independent Sales Consultants market a complete range of high quality skincare, fragrances and cosmetics.
"We're planning on extending the Oriflame expansion to practically all four corners of Sri Lanka, to share the benefits of our products with the general public," Widell added.