BoC Chairman accuses unions of conspiracy
Bank of Ceylon Chairman, Udayasiri Kariyawasam – much in the news these days over alleged corruption deals – says the bank is facing a conspiracy by a certain group with vested interests supported by 'some unions' at the bank. "At the time of my appointment, there was a decision to sell all Bank of Ceylon subsidiaries, but when I was appointed, I stopped this move," he told The Sunday Times FT adding that potential buyers 'may be orchestrating allegations' against him, supported by some unions at the bank.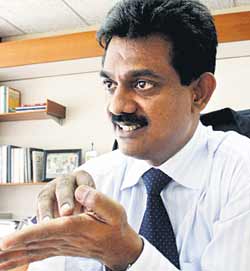 BOC Chairman
Referring to allegations that he has misused bank funds to refurbish his office quarters, the controversial chairman pointed to his chair – during the interview -- and said this is the only luxury he has allowed himself.
"After 15 years I have instructed to refurbish the general manager's room and the customer waiting area. Is that so wrong?" he asked. He added that this exercise cost Rs.2.1 million and with Rs.1.8 million the banquet hall was also refurbished. "This decision to refurbish the banquet hall was taken in 2005, before I was appointed as the chairman. I just honoured their decision, which was a timely one," he explained. Unions have accused the chairman of wrongdoing, corrupt deals, harassment and mismanagement. The Ceylon Bank Employees' Union (CBEU) recently filed a complaint before the Bribery Commission and was considering trade union action against the suspension of two employees of the Merchant Bank of Sri Lanka (MBSL). Kariyawasam, (also Chairman at Merchant Bank of Sri Lanka) had suspended two employees for two weeks as they had failed to stand up as a mark of respect to the Chairman when he had arrived at the office.
He had sent the employees on two weeks compulsory leave saying it was due to the unsatisfactory reception extended to the Chairman.
CBEU Secretary M.R. Shah told The Sunday Times FT that the unions have condemned these actions of Kariyawasam and said that they have documentary proof of his wrongdoings and mismanagement which they were due to present to President Mahinda Rajapaksa late on Friday. "We are asking the President to remove him from the chairmanship," he added. Regarding Kariyawasam's leftwing political connections – both his brothers are connected to JVP-controlled media, he said, "People assume that I am a JVP appointee, but it was President Mahinda Rajapaksa's decision to put me in this position in his capacity as the Finance Minister."
About journalists being his pet peeves, he said that it is not entirely true. "My brother is a journalist and I know many journalists," he said. However, when The Sunday Times FT wanted to record this interview, he refused, alluding to 'bad experiences'.
Citing the Gobbles theory which says that if you repeat a lie ten times, it is considered as a truth, Kariyawasam said that allegations against him are just that – repeated lies which have become the truth.
Asked about the apparent misunderstanding between Apollo Hospitals and Property Development Ltd (PDL), a subsidiary of the Bank of Ceylon, over business tycoon Harry Jayawardena's acquisition of Lanka Hospitals Corporation Limited (LHCL), which is the owning company of Apollo Hospitals), he said that as far as PDL is concerned, there was no misunderstanding whatsoever.
LHCL sources alleged that Apollo Hospitals India President Dr. Prathap Reddy was disappointed in having to move out of Sri Lanka because PDL didn't 'back' him up against the Jayawardena- led Sri Lanka Insurance Corporation when the latter triggered the mandatory offer by a stock market transaction and offered to buy the hospital. PDL has a stake in LHCL
They further said that PDL did not consent to signing an agreement firming the government's commitment, which was given verbally just when Jayawardena triggered the mandatory offer.
"Governments may change. Therefore LHCL wanted an agreement with PDL saying that the letter's backing will stay true irrespective of any government change, but they did not agree," a source explained to The Sunday Times FT at the time, adding that this development literally forced LHCL to relinquish their shares to Jayawardena.
Kariyawasam vehemently denied these charges. "LHCL never wanted an agreement with us. They never indicated this, nor approached me," he said.
Discussing the debate on bank mergers, he said that an internationally recognised regulatory mechanism is needed to counter this issue. "At one end, merging is not good, because it allows for monopolies," he said, adding that in a small country such as ours, this is unadvisable. "On the other hand, many small banks are also not good, because of the huge risk that they carry," he said. He added that the minimum capital adequacy requirement stipulated by the regulator is a good move because the financial strength is guaranteed.
He said that presently the financial sector is doing very well, because most of the economic activities in the country are funded by debt capital. "This is not a very good thing, even if it is profitable to us," he said.
He said that the recent budget proposal on general provisioning of one percent on banks is going to affect the industry. "The banks have got some proposals together and will meet Treasury officials soon," he added.