Pull up your socks!
As Sri Lanka slumped to their second consecutive defeat there was evidence in a lack of desperation to win. No game of cricket goes completely to plan. The opposition is there to spoil your plans. The pitch is there to provide the challenges. These and much more have to be conquered to achieve a victory.
The pitches produced for games one, two and three got progressively less conducive for batting. They did not get exceptionally bowler friendly, but simply got tougher to score runs on.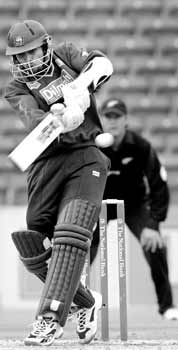 T.M. Dilshan is having a very lean spell at present.
No question the pitch for the opening game was better for batting. Sanath Jayasuriya led the charge and the Sri Lankans got to the sizeable score acquired by their opponents. It was typically a surface like at home. Little lateral movement, not too much bounce and coming onto the bat at a reasonable pace. The end result was a very comfortable victory for Sri Lanka. On the next occasion, it required more grafting. A collection of singles and two's, as opposed to crashing boundaries was the requirement. They almost got it right, but in the end were twenty to twenty five runs short. The black caps scraped through in the very last delivery with just a wicket to spare. Twenty more runs would have been more than adequate.
The third game was a disaster. The team management decided to rest their leading quicker men. Had they not had any injury, resting both at one go was not a wise move. They also decided to leap frog Marvan Atapattu from number five to number three. Whatever the reasons for that decision, it is time to settle down to a definite numbers one to six.
In his story at the crease Atapattu played some delightful strokes. The manner in which he played also indicated that there were runs to be scored on the pitch. His driving on the off side both on the front and back foot was a treat to watch. He flicked a ball in the air, to square leg and was caught. Caught was the manner in which eight of the Sri Lankan batsman were dismissed. The other two were run-out!
The New Zealand bowlers quickly adjusted the length they were bowling. Realizing that the Sri Lankans were getting onto the front they pulled the length back and also used the slower delivery cleverly. The Sri Lankan batsmen did not adjust. They continued to play almost in the manner they did in the first ODI and hence eight batsmen out caught.
To add to their woes two of their leading batsmen were run out. Dilshan was involved in both and he must take the rap on the knuckles. In the first instance he pushed the ball not too wide to Vettori at short mid wicket and took off challenging the left arm of the New Zealand Captain. Jayawardena trusting his partners judgment responded, only to fall short of the crease.
Next Dilshan drove powerfully to the left of Hemish Marshall and charged for a run. Marshall threw himself full stretch brought off a brilliant save, picked himself up in one movement sent in a powerful return. Dilshan who had charged out could not get back in time. Basic errors were committed. Initially in not calling and secondly for not waiting to check if the ball was fielded. It is a major problem at all levels of cricket. In Sri Lanka that players do not adhere to making the simple calls of yes, No and Wait. It is part of batting and means much in terms of avoiding run outs and collecting some additional runs. A score of 112 runs was just not good enough on that pitch.
Sri Lanka are playing seven batsmen in their team. On the tough occasions, two or three must put their hands up to stick through the difficult times and build a respectable score. There is no purpose of picking batsmen on reputation or simply because they bat in the top order. They must score runs, make their contribution consistently. It is time for Sri Lanka to pull up their socks!