Under-17 Intl. cricket title for Gateway International
Gateway's score stood at 131 for 6 and needed only 18 runs for victory. At this stage a very tense and exciting situation arose with Gateway losing three quick wickets on a hat trick by Aaqib Naheem of Lyceum Nugegoda. Gateway's last pair turned the match in their favour with a score of 18 runs and a devastating six in the first ball of the 39th over. The mainstay of this partnership was Damien Fleming who remained at 52 not out scoring 2 towering sixes. Damien was adjudged the Man of the Match for his unique contribution.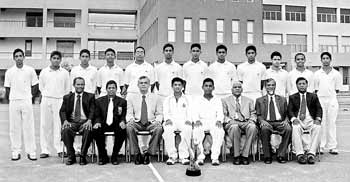 The winning Gateway team
The Captain of the Gateway team, Malith Silva won the Man of the Series award for his consistency in batting and bowling and good captaincy.
The detail scores of the match are as follows:
Lyceum – 148 all out in 38 Overs (Shevan Motha 27, Ranga Seyaddaragedara 24, Heshal Silva 23, Pulasthi Ranasinghe 4 for 26)
Gateway – 149 for 9 in 38.1 overs (Damien Fleming 52 not out, Mohammad Akthar 36, Malith Silva 21, Uditha Munasinghe 51, Aaqib Naheem 4 for 33, Heshal Silva 3 for 28)
On the way to the finals, at the knock-out stage Gateway beat Leighton Park International School in the quarter finals by 86 runs. The details are as follows:-
Gateway – 191 for 7 in 30 Overs (Mohammad Akthar 62, Dinusha Karunathilaka 55, Afthab Jaffer 21 not out, Shabir Nawaz 3 for 35,Sandeep Nag 2 for 23)
Leighton Park – 105 for 6 in 30 Overs (Sandeep Nag 36, Kiran Fernando 18, Afthab Jaffer 2 for 13)
In the semi Finals, Gateway beat Colombo International School by six wickets. The scores are as follows:
Colombo International School - 75 all out in 24 overs (Michael Siyaguna 26,Yohan Senerath 11, Afthab Jaffer 3 for 9, Malith Silva - 2 for 17)
Gateway – 76 for 4 in 23.3 Overs