Protests against Saddam's execution erupt around the country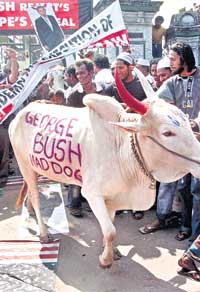 Last Friday massive protests against the execution of former Iraqi President Saddam Hussein, were held around the country after Jumma prayers.
A large number of protestors gathered at the Maradana Jumma Mosque and marched to the US Embassy where they handed over a memorandum.
Meanwhile protest rallies were also held at Puttalam, Beruwala, Kaththankudy, Kalmunai, Akkaraipattu and several other areas in the east.
Even though Government delayed issuing a statement after the execution, the Minister of Foreign Affairs Mangala Samaraweera issued a statement stating the execution, which was carried out on Eid-ul-adha, one of the holiest days in the Islamic calendar was regrettable.
"…While regretting this unfortunate turn of events we fervently hope that this will not affect negatively, the process of restoring peace and normalcy in Iraq" he stated.
All mainstream political parties in Sri Lanka too condemned the execution. Our pictures show some of the protest demonstrations held in Colombo and Puttalam.