Vakarai IDPs – the agony continues
Foodstocks available unable to transport
fleeing persons killed by artillery fire
2,462 of displaced - students
By Dilshad N. Banu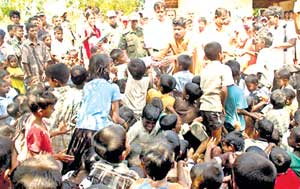 A number of organisations provided emergency relief to the IDPs from Vakarai.
S. Arunmainayagam the GA Batticaloa said, the new term for most of the schools which sheltered the displaced in the Batticaloa District would not reopen this week, despite a number of schools being vacated by the displaced people.
"Presently only 16 schools are occupied" he said. He added that apart from a few schools, classes could not commence as the schools needed to be cleaned and arranged prior to the lessons.
Clashes between the security forces and the LTTE in Vakarai led to an exodus of people who have sought refuge in the Batticaloa town and its suburbs.
A number of persons fleeing the fighting were killed on the way –victims to artillery fire. Those who survived relate horrifying stories of having walked barefoot through jungle paths, crossed streams and going without food for 3 to 4 days.
Schools became places of shelter for the displaced. "During the initial stages, 39 schools were occupied by IDPs, later this number was reduced to 27. The GA said that though land had been identified, establishing temporary shelters with water and sanitation facilities would take considerably more time. He said they had been able to move the IDPs from 11 schools out of the 27. The people have been temporarily resettled mainly on private land as a temporary measure he added.
Mr. Arunmainayagam said the decision to build temporary shelters on identified lands would be discussed at the Co-ordinating Committee meeting this week. The Batticaloa District Zonal Education Director A.M.E Paul, said only 5 schools out 20 had been vacated at the time schools were scheduled to start for the new term.
"Kottanumai Junior school, Vinayakar Vidyalaya and Eravur Thamil Maha Vidyalaya are expected to commence activities as per schedule and though a camp had been set up at St. Sebastian Maha Vidyalaya" he said he did not expect it to disturb the studies of students, whose school would function as usual. He added that education at the Sinhala Maha Vidyalaya too would remain unaffected.
Mr. Paul said 8 more schools - 5 in Ariyampathi and 3 in the town area too were cleared of IDPs on Monday. He stressed however, that classes may not start as cleaning and other arrangements needed to be attended to.
The Zonal Director said steps to relocate the IDP students to schools which are closest to their camps were underway. Mr. Paul said that while 2,462 IDP students had been registered, they could be accommodated in schools only after they moved into temporary shelters on identified lands.He said these students would be accommodated at schools nearest to their temporary homes.
Difficult to even contact government officials...
Divisional Secretary Vakarai, S. Giridaran said the migration of the displaced and the native people of Vakarai to the cleared area continued, despite the heavy exchange of fire between the security forces and the LTTE.
He added that a few people had moved to northwards to Verugal and villages in Sampoor in the uncleared areas of the Trincomalee District. Mr. Giridaran said they planned to send a convoy of food to the people caught up in the fighting at Vakarai, but the ongoing clashes made it difficult to assess what was happening in that area.
He stressed that they did not know exactly know how many people were presently living in Vakarai, as people were leaving established camps on a daily basis and it was proving very difficult to even contact government officials to get data or measure the movement and needs of the people.
He claimed that stocks of food were available in warehouses but would be able to transport it to Vakarai only after they were able to assess the ground situation.