Stranded and starving, the people of Jaffna battle on
By N.Parameswaran in Jaffna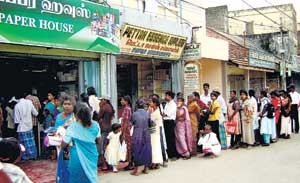 While a major food crisis persists in Jaffna excercise books also are severely rationed and parents are seen in a long queue to obtain their ration of just two exercise books for a child as the new school year begins in the war torn district
The hardships faced by residents of Jaffna including soaring food prices appear to have seen little relief in spite of efforts by the government. Before the A 9 land route was closed an average of 8000 people travelled via the route to and from the North. Now civilians have to travel via air or sea.
The vessel Green Oceanic takes passengers between Jaffna and Trincomalee once a week while two local airlines have a daily service from Colombo to Jaffna. However, residents say these means are inadequate and thousands of people are stranded in Trincomalee awaiting transport to Jaffna.
Before the land route was closed an average of 200 (12 seater) vans used to carry passengers from Colombo to Jaffna daily, Now these van owners are facing financial problems and are unable to pay the monthly lease.
Meanwhile security has been tightened in Jaffna with checkpoints at every junction. A daily curfew is imposed from 8 p.m. to 5 a.m. Most roads are closed to the public and many have been turned into one way routes for security reasons.
"The wracks at grocery stores and pharmacies are empty. The food distributed via the Corporate stores are inadequate," a resident lamented. People were unable to even buy the simplest drug, Panadol during a recent outbreak of Chickungunya that affected about one fourth of the population. Long queues of people are seen at the shops opened by the military where dry food items are sold at controlled prices. These same goods are sold in the black market at five times or 10 times the amount of the market price.
The only affordable food in Jaffna these days are grapes with vendors unable to transport them to other parts of the country. Restaurants are closing down with owners unable to carry on the daily operation. As many as 2000 have lost their jobs and those who earn a daily wage are facing near starvation. Even a kg of firewood is sold as Rs. 12. Many families can only afford one meal a day.
Students whose first term in school begins this week are facing shortages in books and other stationery items. The town is deserted after 3 p.m. with shops close at about 2.30 p.m. Some of the govt. departments close at about 2 p.m. and banks at 12. Buses do not ply after 5 p.m.
Kidnappings and killings appear to be the order of the day with the Human Rights Commission saying it has received 163 complains of missing people since August 11. Meanwhile security forces say they have detained 50 people.