Vehicle wheeler deals:In parts or under cover
By Nalaka Nonis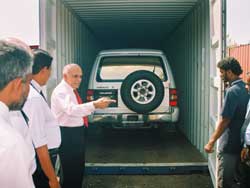 Customs officials with a luxury jeep detected inside a container.
Government has been losing much revenue as a result of certain businessmen importing vehicles in parts or by concealing vehicles in containers in an attempt to circumvent paying taxes. According to the Customs and Import and Export Control Departments this racket has been going on for a long time despite certain regulations being introduced to curb it.
Customs Assistant Director Mali Piyasena told The Sunday Times his department was regularly detecting vehicles imported in parts and vehicles concealed in containers. He said this racket has often been carried out by a well-organised group which later assembles the imported parts and sell it as a complete vehicle.
He said some vehicles were brought into the country by concealing them in containers with vehicle accessories or other items while some are imported separately as engine, chassis and other parts for which the import duty is much less.
Mr. Piyasena said some vehicles were imported under false addresses so that even if such cases were detected by the Customs, the importer could not be identified. He said that compared to the last few years there has been a reduction in such cases.
He said the Customs imposes a tax of 300 percent of its value on petrol vehicles imported and a 400 percent tax on diesel vehicles. "However when parts imported separately are used to assemble a complete vehicle, the amount of taxes payable by the importer is in the region of only Rs. 100,000," he said.
Mr. Piyasena said that it was not practical to check all the incoming containers. He said there were some cases where individuals imported vehicles without knowing the regulations and therefore faced difficulties.
It is estimated that the Government has lost revenue of about Rs. 25 million from the seven vehicles recently imported to Sri Lanka fraudulently, while the value of those vehicles was about Rs. 30 million.
Import and Export Controller Neil Bandara Appuhinna told The Sunday Times the issue of permits to import parts which could later be assembled to make a complete vehicle, has been stopped six months ago on a directive from President Mahinda Rajapaksa.
"We are not issuing permits to import portions and old vehicles now", Mr. Appuhinna said. He said the import of three and half year old cars, five year old vans and seven year old trucks has been stopped.
He said from this month importers have to furnish a pre-export inspection certificate to his department before importing a vehicle.