The King of our times
Celebrating 2006's most happening person... Michael Jackson
"One era will be remembered and spoken of for decades to come… one name has lived and will continue to live forever in the hearts and minds of generations ... one man has become a living legend, recently proclaimed to be the most famous person alive!"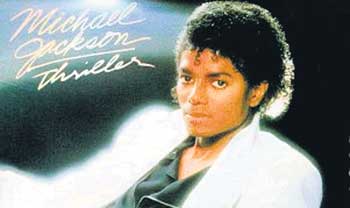 Original album cover of 'Thriller'
Although it hardly seems necessary to have to reveal the identity of the "King of Pop" himself… Michael Jackson has achieved what no other artist alive has been able to achieve, to date. He's managed to withstand the numerous allegations thrown his way and successfully maintain his near hysterical (but most often, quite hysterical) fan base for over four decades now! That alone is some feat!
As part of the spectacular tribute to 25 years of his multi-platinum album 'Thriller', which was also pronounced by the Guinness Book of Records to be the 'World's Best Selling Album Of All Time', (with sales estimated at over 104 million copies), Michael Jackson was also honoured with the prestigious Diamond Award, awarded for selling over 100 million albums during his musical career, at last years World Music Awards (November 15). Although this may seem stale news to most Michael Jackson fans, I want to add a little perspective (as a fellow follower of the "King") to this supposed controversial performance (or as some might put it non-performance) of his at the Awards held in November last year. I say controversial, since many of his fans, who had paid a lot of money to come see their idol, had been sent home disappointed as Jackson didn't perform his hit single "Thriller", as promised.
To me however, (and I'm sure there were many more like me) although also disappointed to not see him perform, simply seeing him on stage after such a long time and knowing that he's working on a new album to be released sometime this year, was more than enough! And, having watched the 'World Music Awards' on local TV last week (as I didn't have the good fortune of being there in person), I have to say that I failed to witness the whole "Boo…ed off stage and disappointed fans bit." I mean, he wasn't able to say one word for a good 10 minutes after he walked on to stage to accept his award, due to the thunderous applause and screaming. He got a standing ovation for crying out loud! Is it just me or was the more 'real' picture of "maniacal screaming, crying and fainting" conveniently left out of most of the media reports that followed this event?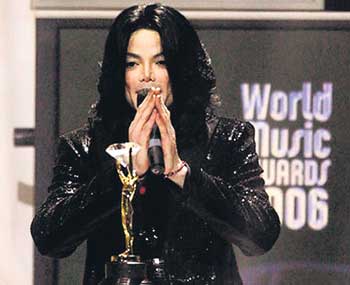 Jackson receives the Diamond Award at the WMA
If I hadn't known better, I could quite easily have mistaken it to be an audience from one of his older concerts when he was at his peak! Let alone the fact that the majority of the audience there seemed to have come just to get a glimpse of him, holding up banners such as "The Return of the King" or "We Love You Michael" etc., Does this paint the picture of a disappointed audience to you? Makes me wonder if the whole debacle was yet another bout of media sensationalism, rather than actual fact!
From village kids on the street, to dance floors in the hippest, most happening clubs in town, Michael Jackson was a name, face and most importantly, a personality unfamiliar to none (alright… almost none)! A recording artist cum humanitarian, he's said to have donated more than US$ 300 million to charity. He was even listed in the year 2000 edition of the Guiness Book of World Records for breaking the world record for the "Most Charities Supported By A Pop Star" – known to be supporting nearly 40 charity organisations, more either with monetary donations through sponsorships of their projects or by participating in their silent auctions.
Michael Jackson, in his trademark outfit of white sparkly gloves and socks and black hat, doing his ever famous crotch-grabbing move followed by a "hooo", moon-walking, and crouched tip-toe kicking action… revolutionised the world of pop like never before! Thus rightfully earning his title as the true king of Pop.
1982-1986: the Thriller era
In November 1982, the storybook for 'E.T.: The Extra-terrestrial' was released. It included Jackson reading the story as well as one original song ("Someone in the Dark"). The album later won a Grammy for "Best Album for Children".
In December 1982, Jackson released his second Epic album, 'Thriller,' which became the best-selling album in music history. The album spawned seven hit singles, including "Billie Jean" (which was the first music video by a black artist to receive regular airplay on MTV), "Beat It" and the album's title track which was accompanied by a revolutionary music video. The thirteen-minute 'Thriller' was critically acclaimed, and massive airplay lead to it being packaged with the featurette Making Michael Jackson's 'Thriller' on VHS, where it became the best-selling music home video ever. 'Thriller' spent 37 weeks at number-one and remained on the Billboard album chart for 122 weeks. It was eventually certified 27x Platinum in the United States.
In 1983, whilst performing "Billie Jean" at the Motown 25: Yesterday, Today, Forever concert Jackson debuted what can be regarded as his signature move: the moonwalk.
In February 1984, Jackson was nominated for twelve Grammy awards and won eight, breaking the record for the most Grammy Awards won in a single year. Seven were for the critically acclaimed 'Thriller' and the other for the 'E.T.: The Extra-terrestrial' storybook. In 1984, he also won eight American Music Awards and the "Special Award of Merit" and three MTV Video Music Awards.
After reuniting with his brothers, he then helped to write the Victory album. He then performed and starred in the Victory Tour which started on July 6, 1984 and lasted for five months.
In 1985, Jackson was invited to the White House and was personally thanked by then-President Ronald Reagan at a White House ceremony for donating the song "Beat It" for use in drunk driving prevention television and radio public service announcements.
Jackson continued his charity work in 1985 by co-writing, with Lionel Richie, the hit single "We Are The World". The charity single helped to raise money and awareness of the famine in East Africa and was one of the first instances where Jackson was seen as a humanitarian. The song also won a Grammy Award for "Song of the Year".
Controversy began when Jackson purchased shares in the ATV Music Publishing (a company which owned the rights to most of the Beatles' songs), making himself the majority shareholder. This move angered close friend and songwriter Paul McCartney, who had also made a bid for the company. Ironically, it was McCartney who advised Jackson on the merits of song ownership. Their creative co-writing ended after this event.
In 1986, Jackson starred in the George Lucas-produced, Francis Ford Coppola-directed 3-D film Captain EO. The film lasted 17 minutes but had costs estimated at $17 million. At the time, it was the most expensive film ever produced on a per-minute basis. Two new songs featured in the film. These were "Another Part of Me", which later appeared on 'Bad,' and "We Are Here To Change The World", which was officially released in 2004 on the box set Michael Jackson: The Ultimate Collection.
Courtesy http://en.wikipedia.org/wiki/Michael_Jackson
The return of the King
Michael Jackson has begun recording his first new material since 2001. The new Michael Jackson album is to be released in the fall of 2007. The singer is releasing the album through the Bahrain-based label, Two Seals. According to a statement from the label, Jackson has signed a deal with Abdulla Hamad Al-Khalifa, a member of the Bahraini royal family.