Position pregnant with possibilities
Woman posing as expectant mother reveals plan to target Basil Rajapaksa
As war escalates, new regulations gags the media
Tigers hit back with bus bombs in South as military strikes Vakarai and other targets
By Iqbal Athas
Exactly a month ago, on a sunny morning Army soldiers staffing a check-point at the Courts complex in Batticaloa turned very suspicious about the movements of a pregnant woman. The complex is located adjacent to the District Secretariat or the Kachcheri.
They stopped her and informed the Batticaloa Police. A mobile patrol arrived and took her to the police station. There women police officers conducted a body search. What they found sent shockwaves reeling through the police hierarchy.
She was not pregnant. She had used a small sponge pillow and pieces of cloth to disguise herself. She had also used cloth to pad an over sized brassiere. More shocking was the find that she worked at the Government Agent's office and the Secretariat of the then North East Governor in Batticaloa. She had for weeks been posing off as pregnant whilst working as a Programme Assistant.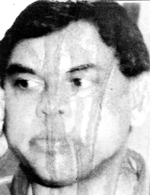 Basil Rajapaksa
The chance discovery was to reveal more chilling details. Police suspect that main among her targets were Basil Rajapaksa, Senior Advisor and brother of President Mahinda Rajapaksa. Spearheading the Government's Jathiya Saviya programme he has been visiting District Secretariats regularly to discuss humanitarian issues. In Batticaloa he had chaired conferences on two occasions. With an exodus of Internally Displaced Persons (IDPs) fleeing the fighting in Vakarai, he had planned to go there to discuss relief measures. Similar missions in the past had taken him to Jaffna, Vavuniya, Mannar and Trincomalee.
The find prompted Police chief Victor Perera to direct all DIGs to ensure police personnel deployed in security related tasks are mindful. He had also told them how this would-be female suicide bomber was collecting intelligence information whilst posing off as a pregnant woman at work. Mr. Perera has warned that similar tactics could be used by other female guerrilla cadres to assassinate VIPs and top security and police personnel.
The latest revelation has been compounded by other findings last month. Important among them was the arrest of two more Army personnel which raised concerns in the state intelligence services about the high degree of infiltration by Liberation Tigers of Tamil Eelam (LTTE). The vast amounts of money they had spent to win over some officers and men have stunned them.
In one instance, a Captain had sought and obtained a posting in a southern Army establishment. This was on compassionate grounds after it was brought to light that his wife was in a very bad state of health. One day he had obtained leave and was away from his post. It came to light that he had visited Tiger guerrilla-held Kokkadicholai to provide the LTTE vital intelligence information. The officer is now under investigation by the Military Police.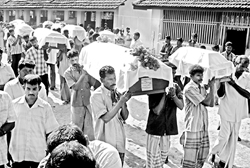 The funeral of alleged victims of the Air Force raid on Padahuthurai near Mannar. The Media Centre for National Security, however, denied strongly that civilians were killed in the air raid carried out on a Sea Tiger base.
Another instance is the arrest of an Army sergeant. He was deployed in an important military establishment in the North Central Province. He had in his possession ten different SIM cards for mobile phones and a satellite telephone. In addition, he also had video footage of key military and other installations. They were meant to be handed over to the LTTE. The Sergeant, who is now under interrogation, is learnt to have admitted to his links with the LTTE and having received attractive cash payments for the services he provided.
It is in this disturbing backdrop that Sri Lankans ushered in 2007, a New Year marred by the ongoing undeclared Eelam War IV. These new developments have caused a serious concern for state intelligence services. As fighting escalates further, worries over LTTE putting to use vital intelligence it had gathered through infiltrating the security forces have heightened. They believe it is only a few instances that have come to light after TID and Military Police investigations. Hence, fears of surprise attacks that can catch the security establishment off guard are not being discounted.
Earlier, as revealed in The Sunday Times (Situation Report - December 10, 2006) a Major in the Army confessed to receiving some two million rupees for providing detailed information on the movements of former Deputy Chief of Staff of the Army, Major General (and posthumously promoted Lieutenant General) Parami Kulatunga. He had lived in the same residential complex where the late Lt. Gen. Kulatunga lived at Kendalanda near the Army Cantonment in Panagoda. He had videoed all movements of the number three in the Army, his security convoy and made them available to the LTTE. That helped them plan the attack.
A Court Martial in respect of another Major in the Army, accused of helping the LTTE, begins tomorrow. It is chaired by a senior Brigadier. He is also alleged to have provided intelligence information to the LTTE for large amounts of money.
These developments come, as there are increasing signs that the ongoing war is escalating. In the past weeks, the LTTE preparations for a stepped up offensive against the security forces had included a large scale registration of senior school students. This is in addition to the induction of able bodied civilians to play battlefield roles. As an additional measure, the LTTE had stocked up food reserves by looting the cargo of 14,000 tons of rice from the Jordanian vessel Farha III that developed engine trouble.
As for the security forces, the ongoing offensive operations in the East continue. Groups of Special Forces personnel are engaged in a string of strikes against guerrilla positions particularly in the Vakarai area. There were reports yesterday of fighting escalating after both sides poured in more men and material in what is now turning out to be prestige battles. Casualty counts or what the fighting portends for the future cannot be freely discussed.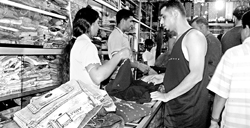 The crew of the Jordanian cargo vessel FARA III obtaining their requirements of clothes from a shop in Kilinochchi. They were brought ashore by the LTTE after their ship developed engine trouble and drifted off the shores of Mullaitivu. The LTTE has seized the cargo of 14,000 tons of rice on board.
A detailed appreciation of the military situation in the East or for that matter the North and its impact on other areas including the City of Colombo are not possible. This is despite such matters being of significance and great public importance. This is in view of the Prevention and Prohibition of Terrorism and Specified Terrorist Activities Regulations. This was promulgated on December 6 under the Public Security Ordinance. There is no formal official declaration so far that these Regulations do not apply to the media. However, The Sunday Times has learnt that some state agencies including investigating arms have been asked to deal with anyone violating the provisions of the new Regulations. They have been told there would be no exceptions.
Some of the provisions are far reaching. One such clause is the requirement that "No person shall provide any information which is detrimental or prejudicial to national security to any person, group, groups of persons or an organization….." Any reference or report that may not be to the liking of those in the defence and security establishments, it could be argued, can be dubbed as information that is "detrimental or prejudicial to national security." So are revelations relating to corruption in military procurements that are continuing to create millionaires and billionaires of those in uniform and outside it. In such instances, they involve references to military hardware to be procured.
Though absurd, it could still be argued that the disclosure of the items to be procured would amount to passing information to the enemy. Most of them are obtained after the call of public tenders. Technical details of them are only a finger tip away to those who have access to the internet. Moreover, the recent arrests of Army officers make clear the LTTE had become privy to not only their inventory but also to other vital data.
If the Government is keen to ensure that exposure of corruption in military procurements should not be impeded in any way, the best would be to officially clarify that the Regulations do not apply in any way to media exposures. After all, when a war escalates, it results in colossal expenditure. They come from public funds and moreover new measures to generate more moneys are introduced every now and then. Thus, it is not only the Government's commitment to transparency that will be further established by such a declaration but also its firm desire to combat corruption.
In this vacuum, this week signalled the escalation of fighting in a number of fronts. The Air Force carried out air raids on guerrilla targets in Mannar. The Bishop of Mannar, Rt. Rev. Rayappu Joseph alleged that it had hit civilians killing 15 including seven children in the hamlet of Padahuthurai. The Media Centre for National Security denied the charge of attacks on civilians and insisted an air raid on a Sea Tiger base was successfully executed.
In a separate incident, the LTTE claimed a Long Range Reconnaisance Patrol (LRRP) operating inside guerrilla controlled Nedunkerni area had hit a vehicle belonging to the Government Department of Agriculture. Two officials were killed and two more were wounded, the guerrillas claimed.
In what seemed a retaliatory response, Tiger guerrillas placed a bomb in a bus headed from Nittambuwa to Giriulla. It was near the Nittambuwa town when the explosion ripped the bus killing six passengers and wounding more than 50. Nine of them are in a critical condition at the National Hospital in Colombo. Fears of violence erupting in the area prompted senior defence officials in Colombo to order the police to declare an unofficial curfew on Friday night. It ended at dawn yesterday.
Hardly 24 hours later, another bomb exploded inside a bus in Telwatte near Hikkaduwa. At least 15 were killed. The bus was traveling from Colombo to Matara. The incident occurred near the Seenigama Devale along the coast. Details of the incidents appear elsewhere in this newspaper. The attacks came barely a week after a state intelligence arm had warned of the possibility of attacks on civilian targets. They pointed out that such attacks could be on a train or a bus loaded with passengers.
These and other intelligence warnings have prompted the defence authorities to consider tough new precautionary measures for the City and suburbs. Though details of these measures cannot be spelt out for obvious reasons, it could be said that the move will lead to the creation of a Green Zone - a rigidly high security area where tighter security measures will be in force. It will also lead to screening and registration of persons within the zone and the vehicles they own or operate.
Yesterday, the guerrillas exploded a claymore mine killing a soldier who was in a convoy distributing food in Uduvil. In another incident in Vavuniya an explosion hit a vehicle killing three soldiers.
Two of them were said to be returning on leave escorted by other armed soldiers when the incident occurred.
In another development, for the first time, the Criminal Investigation Department (CID), the coveted and prestigious investigation arm of the Police Department, has come under investigation. A high ranking Police official has been given this responsibility. He is to ascertain whether there have been lapses with regard to some high profile investigations carried out in the recent months. The investigation is said to have been triggered off after an arrest and probe which the CID was asked to carry out ended prematurely. Some senior police officials claim this may be a prelude to impending changes in the CID.
A significant pronouncement of Government policy with regard to the LTTE came with the dawn of New Year from the Commander of the Army, Lt. Gen. Sarath Fonseka who is spearheading the military campaign against the guerrillas. In public statements, he declared that the Army would soon recapture the Vakarai area and clear the East. Thereafter, he said, the Army would liberate the north from the LTTE. That naturally would mean continued military offensives where counter attacks from the LTTE would be a logical outcome. It comes in the backdrop of stalled peace talks and a decision by the Sri Lanka Monitoring Mission (SLMM) to withdraw from their postings in the North and East. Instead, they are to operate from Colombo.
With no immediate prospects of Norwegian peace facilitators being able to revive the peace process in the coming weeks, fighting between the two sides will only make it more difficult. That only means the Eelam War IV will escalate. Not the best of things to happen with the start of a New Year.