Britain in quandary over Balasingham's funeral
LTTE plans to move its ideologue Anton Balasingham's body to Alexandra Palace in North London for some of the Tamil diaspora to pay their last respects might have run into unanticipated problems.
Keeping the body at Alexandra Palace, the Wood Green venue where the LTTE held one of its Heroes Day meetings last year might well violate British health and safety regulations which do not permit the unauthorised display of bodies in public places such as the Alexandra Palace auditorium.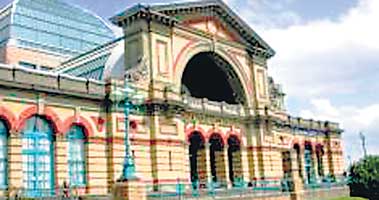 Alaxandra Palace, where the LTTE plans to hold the final rites for its one-time spokesman
The LTTE might now have to change its plans and cremate Balasingham, a Christian, at a registered crematorium and hold a funeral service at Alexandra Palace with British police keeping an eye on whether any symbols, flags or pictures of the LTTE are displayed as this would break Britain's terrorism law under which the Tigers are still a banned organisation.
Stories circulating here in Tamil circles are that the LTTE wishes to cremate the late Balasingham in the hope that his ashes might some how be taken to Sri Lanka to be deposited in the LTTE's heroes' cemetery in Kilinochchi where those honoured by the movement are laid to rest.
Meanwhile officials of the British Foreign Office and the Home Office which administers the terrorism laws are expected to meet tomorrow to discuss several issues that have arisen following Mr. Balasingham's death.
Among the issues are what steps, if any, should be taken if the funeral is turned into a public LTTE event with the display of Tiger symbols, flags and pictures and the sale of Tiger memorabilia which could be interpreted as raising funds illegally.
Another issue is whether LTTE bigwigs or known supporters trying to enter Britain for the funeral should be stopped in accordance with the European Union law that prohibits LTTE delegations to travel to European Union countries.
It is understood that some foreign politicians, particularly from Norway, would participate at the funeral ceremonies. But it is not certain whether some British politicians who have earlier shown LTTE sympathies or have participated in LTTE-fronts sponsored events would want to show their faces in the glare of media publicity.
Meanwhile The Times of London opened its obituary on Mr. Balasingham thus: "Anton Balasingham provided the intellectual framework for the violence of the Liberation Tigers of Tamil Eelam. He was the brains behind the brawn, someone the leadership could turn to for ideological guidelines, philosophical justification and political explanation while the killing went on."