VC disappears during Colombo seminar
Eastern University Vice Chancellor Sivasubramanaim Ravindranath was abducted on Friday by unidentified persons after he attended the annual scientific sessions of the Sri Lanka Association for Advancement of Science (SLAAS) in Colombo, Police said.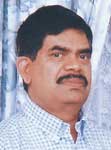 Prof. Ravindranath
Prof. Ravindranath tendered his resignation from the post of vice chancellor in October following death threats, but the University Grants Commission (UGC) had not accepted his resignation on the grounds that the resignation should be sent to the President. Since then he has been living in Colombo with his family.
Prof. Ravindranath had attended a four-day seminar and was last seen by colleagues during the tea break at the sessions which were held at the SLAAS headquarters in the high security zone of Colombo 7. The professor had earlier called his driver around 12.20 p.m. and wanted him picked up from the venue. But when the driver turned up, the professor was not there. Yesterday the CID was called in to probe the disappearance after President Mahinda Rajapaksa was briefed on it.
The Vice Chancellor tendered his resignation in October after Arts faculty dean Balasingham Sugumar was abducted on September 30. While Mr. Sugumar was in the custody of his abductors he reportedly called the VC and said the abductors would release him only when the VC agreed to resign. Mr. Sugumar was released ten days after the VC tendered his resignation and he subsequently left the country.
UGC Chairman Gamini Samaranayake said that since then the professor had not reported to work and no acting arrangements were made as the resignation was invalid. The Vice Chancellors' daughter, Malarawan Dushyanthi said her father had been receiving threatening calls from unidentified persons telling him to resign and keep away from administrative work.