'We won't go home till it's safe'
Villagers who fled their homes in and around Seru Nuwara have vowed not to go back until they are provided adequate security.
Wimala Sil matawa from Sirimangalapura, Serunuwara who has sought refuge at Kantale Seevali Vidyalaya had a harrowing tale to relate.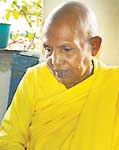 Wimala Sil matawa
"Sirimangalapura is one of the villages that was attacked by the LTTE. They started attacking on December 7. Most of the people left except for about six families who huddled together in one house. I also stayed back with them. We dug a small trench and every time we heard shells falling in the village or surrounding areas we hid in the trench," she said.
But soon the situation got worse and bombs started falling everywhere and the whole village shook with the terrible sound. Finally they were taken to Kantale with the help of the Chief Priest of Somapura Temple, she said.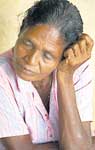 Almalee
Rajapakse
Almalee Rajapakse, from the south bund of Serunuwara said when the LTTE attacked their village the families fled to Agrabhodi temple since most of their homes were damaged by artillery fire.
"We have enough food since the villagers provide us with cooked food. An organization distributed some bed sheets. Since we left our homes suddenly we were only able to take some clothes with us. We won't go back until there is enough security," she said.
M.M. Steven Fernando also from the south bund of Serunuwara had fled only in the clothes he was wearing.
"The LTTE attacked us from Kadiraweli. they attacked the police station and the surrounding villages. Our homes were destroyed. We are happy with the facilities provided to us," he said.